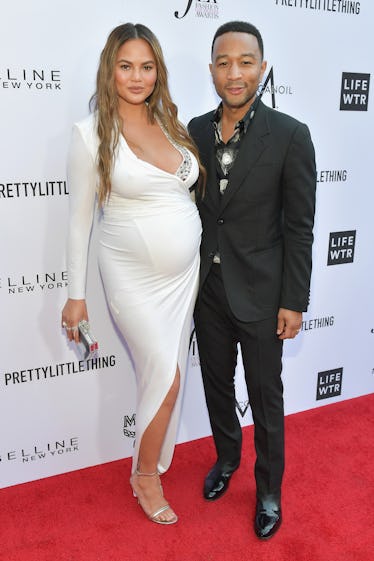 Chrissy Teigen's Son's Net Worth Is Already So High & It's Wild
Neilson Barnard/Getty Images Entertainment/Getty Images
Luna Stephens is a big sister! Chrissy Teigen announced on May 17 that she and John Legend welcomed their second child, a baby boy, into the world, and fans couldn't be more excited for the family. What they might not be too excited about is Chrissy Teigen's son's net worth. While it's not entirely clear what the baby's net worth is just yet (Luna's is still not clear either), between their parents' net worth, we can bet that this baby already has more money than I have made in my 24 years on this earth.
Teigen announced she was pregnant again via an Instagram post on Nov. 21, 2017. The precious video showed Luna sitting in Teigen's lap. Teigen asked, "Luna, what's in here?" Luna, looking at her mom's belly, immediately responded, "Baby!" The video is as cute as it sounds. Teigen revealed the sex of the baby on Jan. 28, 2018 in an Instagram post from the Grammy Awards that was simply captioned, "mama and her baby boy."
Teigen announced the arrival of their little bundle of joy via tweet that read, "Somebody's herrrrrrre!"
Considering the fact the baby has some very famous parents, what's his net worth? That information doesn't seem to be available just yet, but we can get a lot of insight about this based on Chrissy Teigen and John Legend's individual and combined net worth.
She was the third-highest paid model in 2017, coming in behind Gisele Bundchen in second ($17.5 million) and Kendall Jenner in first ($22 million).
Combined, Teigen and Legend are worth over $50 million, so it's safe to assume Luna Stephens' and her little brother's net worths will be pretty damn high once that info is available.
Teigen is known for her humor on social media, but there were plenty of times throughout this pregnancy when she got real about her struggles with it. At the Create + Cultivate conference on Saturday, Feb. 24, Teigen opened up about her fears of postpartum depression with baby number two. "Do I worry about it with this little boy? I do," she said. "But I also know that I feel like when it does happen, if it does, I'm so ready for it. I have the perfect people around me for it. That's why I really stand for a good core group of people around you."
She continued,
I didn't know I had it. I knew that I had an incredible life, and an incredible husband, and family, and all the resources necessary, and I knew that I was personally unhappy, but I didn't think anything was wrong with it because I just assumed that that's the way it was. You have a kid, you're sad, you lose those endorphins, and that's the way it is.
She later learned from her doctors that what she was feeling was postpartum depression and it was treatable, so now she makes a point of being candid about her experiences with it in the hopes that it helps other women who may not realize they are struggling from the same thing.
In an essay she penned for Glamour in March of 2017, she said of her postpartum depression,
Getting out of bed to get to set on time was painful. My lower back throbbed; my ­shoulders — even my wrists — hurt. I didn't have an appetite. I would go two days without a bite of food and you know how big of a deal food is for me. [But the] one thing that really got me was just how short I was with people. I would be in my dressing room, sitting in a robe, getting hair and makeup done, and a crew member would knock on the door and ask: 'Chrissy, do you know the lyrics to this song?' And I would lose it.
She said it took her months to ask for help, but once she did, everything changed. And now she's going to be able to apply what she learned after giving birth to Luna to life with her baby boy.