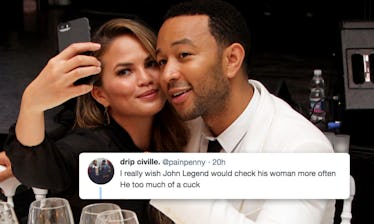 A Hater Tried To Slut-Shame Chrissy Teigen On Twitter & Her Clapback Has Me Shook
Andrew Goodman/Getty Images
I've said it once — I've said it a hundred times. Do not come for Chrissy Teigen. Haters, take your trolling somewhere else. The mother-of-two and supermodel wife to John Legend has always had fans rolling on social media. Her relatable banter, witty tweets, and playful commentary make her both relatable and popular, so it's always hilarious to me when people try to tear her down. Silly bullies, she's Chrissy Teigen. She's unshakable. Chrissy Teigen's response to a slut-shamer on Twitter is just the latest, epic example.
Recently, Teigen and her friend Issa Rae had a playful exchange on Twitter. Rae posted a meme of Oprah Winfrey celebrating with the caption, "I'm about to approach this summer with all my ho energy." Maybe it's not everyone's sense of humor, but it's certainly not provocative or graphic to look at. Teigen commented "same," to which Rae told her, "leave the kids with John." Jokingly, Teigen responded in all caps, "WHAT TIME DOES IT START," annnnd that was the trolls' cue. A few users specifically took shots at Teigen as a wife and jabbed at her husband, too.
One user took a screenshot of Teigen and Rae's conversation and wrote, "This is somebody's wife." Another wrote, "I really wish John Legend would check his woman more often. He too much of a cuck."
I'm sorry... excuse you? Legend should check his wife? NO ONE CHECKS CHRISSY TEIGEN BUT CHRISSY TEIGEN, JERK. Also, she and Rae are just playing around, (and even if they weren't, that's still OK!).
Reminder for the folks in the back: slut-shaming is never OK.
Teigen called out the Twitter users for their crap behavior, commenting, "both of you on here b*tching and gossiping and somehow John's the cuck? [confused emoji]"
When one fan reposted Teigen's back and forth and professed their love for her, Teigen responded by calling the first Twitter hater, @VercettiBlu, a dumb*ss.
Yup. Checks out.
The truth is, Teigen seems to be more secure and stable in her self-identity, sexuality, and marriage than I am trying to decide what I want for breakfast most days. She and Legend just welcomed a new baby boy into their family and are doing just fine, thank you very much.
On May 17, somehow Teigen went through labor and was able to update Twitter fans about her son's arrival, too. She posted a sweet message saying, "somebody's herrrrrrre!" and included some baby bottle and smiling emojis.
A few days later, fans learned she and Legend named their son Miles Theodore Stephens and got their first peek at his sweet cheeks. Teigen shared a picture of Miles on Instagram with the caption:
Hello, world! This is Miles Theodore Stephens - We are drowning in his little peeps and nuzzles. Our household feels overwhelmed with love. Thank you for all your well wishes!
Three days after Miles' arrival, Legend appeared at the 2018 Billboard Music Awards, which gave Teigen a perfect opportunity to sarcastically poke fun at all of the naysayers out there. She "trolled" Legend for leaving his newborn at home and shared a picture of her watching him get interviewed on TV from her couch. She wrote, "Wow, didn't you just have a baby John? Smh go take care of it !!!!!! Disgusting." In the photo, Miles is clearly in her arms.
All of this to say, everybody calm the F down. Teigen and Legend are living their best lives and anyone who has anything negative to say about it can go count their own Grammy awards, money, and television credits, and then sit down.
I forever love you, Chrissy.
Check out the entire Gen Why series and other videos on Facebook and the Bustle app across Apple TV, Roku, and Amazon Fire TV.