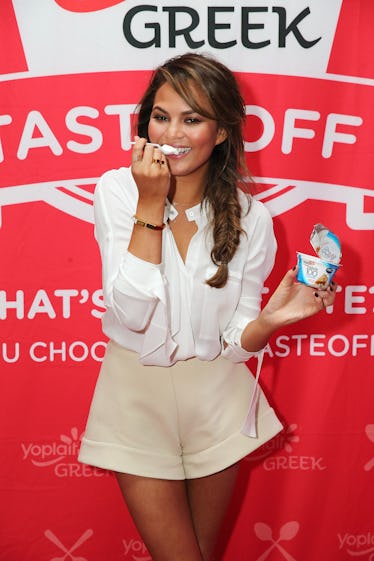 Chrissy Teigen Knows How To Eat & Her Favorite Foods Totally Prove It
Neilson Barnard/Getty Images Entertainment/Getty Images
If the real world held a prom, I'm pretty sure Chrissy Teigen would be unanimously voted prom queen. She's the A-list star we want but don't deserve, the all-around funny, down-to-earth cool girl that we all aspire to be. Really, it's no surprise that Chrissy Teigen's favorite foods just make us fall in love with her even more. Like, for real, watch your back, John Legend.
Teigen's favorite foods run the gamut from the least fancy food you can imagine, to some pretty complicated recipes and expensive watering holes. The reason why Teigen has become such a food icon is simple: She's honest, passionate, and actually knows what she's talking about. Teigen is a seasoned cook, with two bestselling cookbooks already under her belt. So, when it comes to food, Chrissy Teigen's opinions are taken very, very seriously.
Luckily for us mere mortals, Teigen is an open book when it comes to talking about food. She tweets about it, Instagrams it, and talks candidly about it in interviews, so the wealth of information we have about Teigen's taste buds is, put simply, never-ending.
You can never take too much advice from Chrissy Teigen (a lifestyle mantra to live by). Here are 11 of her favorite foods, ranging from a quick fast food spot to her more, shall we say, sophisticated cravings.