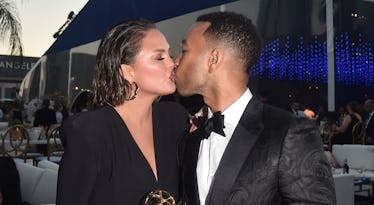 Chrissy Teigen Trolled John Legend On Their Wedding Anniversary, Because Of Course
Alberto E. Rodriguez/Getty Images Entertainment/Getty Images
A couple who trolls together, stays together. That's been more than clear when it comes to Chrissy Teigen and John Legend. The duo, who have been together for 12 years, celebrated their five-year wedding anniversary on Sept. 14 — and, of course, Teigen put her jokester antics on full display. If you haven't seen it, Chrissy Teigen's anniversary tribute to John Legend perfectly showcases her flawless comedic timing and the admirable nature of their relationship.
In the intro of her Instagram post, which features a stunning pic of her and Legend on their wedding day, Teigen wrote:
12 years ago today, I met the man of my dreams. And 5 years ago today, we got married. We have two babies and some pups and a life I am grateful to have. My everything, I love you and am so proud of the story we've created.
Then came the zinger: "But you are an a–hole for releasing your @nbcthevoice news on my target launch day for real," Teigen added. Legend had announced that he would be joining The Voice as a coach on the same day Teigen announced her Target kitchen line, with his news appearing to overshadow hers.
Legend took the comment in stride and made up for his overlapping announcement by subtly promoting her new cookware line in his own Instagram post. He wrote:
What can I say on a day like today? I could talk about the 12 beautiful years I've known you. I could talk about the 5 years of wedded bliss, the 2 wonderful children we've brought into this world. But I feel the urge to say something far more important. I LOVE your new kitchenware line at @Target. I can't wait for it to come out on September 30th.
He also made sure to promote Teigen's upcoming cookbook, because he's just that perfect. Legend added:
I'm so proud of everything you've done in your career and how much joy you bring to people's lives. Did I mention that your Cravings Cookbook is coming out Tuesday? Because it's coming out Tuesday. I love you, baby.
If your lover doesn't honor you with anniversary tributes like these, is it really a relationship?
When you consider the delightful relationship between Teigen and Legend, it seems like a miracle that she convinced him out of breaking up with her back when they were still dating. Teigen opened up about her refusal to let Legend go in a 2016 interview with Cosmopolitan, explaining:
I was on tour with him and he'd gotten sick. He was feeling really bummed and stressed out. He was like, 'I can't be in a relationship right now.' That lasted for one day. Literally, a day. I knew it came from a place other than us not working ... I always joke, 'Remember when you tried to break up with me?' He's like, 'Yes, sorry. Big mistake.'
I think I speak for many of us when I say: Big mistake, indeed. Here's wishing them many more years together, and a very happy anniversary.