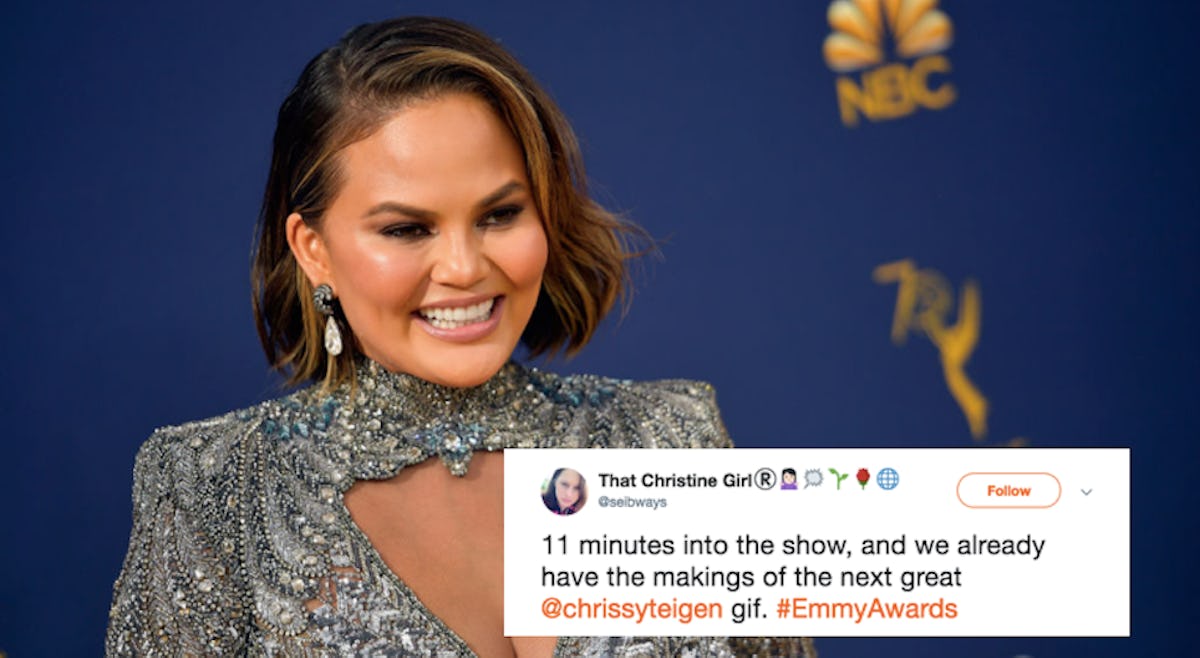 Chrissy Teigen Tried To Hide From The Emmy Awards Cameras, But Obviously Became A Meme
Matt Winkelmeyer/Getty Images
The 70th Annual Emmy Awards had only been on for a mere few minutes when a new meme sensation started the making the rounds. Who does the internet have to thank for this one? Ding, ding, ding! Viral moment-creating extraordinaire Chrissy Teigen, of course. Chrissy Teigen's 2018 Emmy Awards reaction is just about as priceless as that epic Golden Globes crying face from 2015. (She'll never live that one down.) Say hello to Chrissy's not-so-stealthy camera-duck move. It's a new classic.
Chrissy's on-hand to support her newly EGOT-ed hubby John Legend, who's up for Lead Performance in a Variety Series for Jesus Christ Superstar Live In Concert. The model/host/cookbook author couldn't help but steal the Twitter spotlight — no matter how hard she tried to avoid it — when she tried to take herself out of the camera's view. What resulted was a perfectly positioned GIF-able second in time that got everyone immediately buzzing. What a day for Chrissy, even as her significant other is up for a major award. First she makes headlines for revealing that everyone was pronouncing her name wrong, and now this. Ah, the power of Chrissy. What would an awards show be without her reactions? So relatable. So versatile. So entertaining.
"It was just such an inside joke for Twitter, I felt like," Teigen explained, of the second time her awkward expression made headlines at the Oscars in 2016, during that cringey Stacy Dash bit.
"My phone was going insane. I was like, 'What have I done now?'" she admitted on Good Morning America. "Because you can't tell when the cameras are on. There's no red light [there]. You have no idea. I can't believe I did it again though."
She initially caught the world wide web's attention at a live awards ceremony when she had an emotional response to John Legend's Oscar win for Selma.
"Sorry I don't practice my cry face okay," she tweeted, clarifying her sentimental demeanor.
In addition to her memorable faces, Chrissy has become an awards show fave for good reason. I mean — she's sipping from a flask (see below) on the red carpet like it's no biggie, and she's not above poking fun at her husband at all costs.
"Oh my gosh, he's very bad at games where you need speed. Like any kind, where you have to think really quickly, he thinks too long. So no Pictionary, no Scattergories," she told E! News. Noted: Legend's your man when it comes to EGOT-ing, not board games.
"We inspire each other," Legend gushed of his hilarious wife following his producing win at Sept. 8's Creative Arts Emmys. "She inspires my songs, she inspires me to want to be a better husband and a better father. We support each other fully in everything that we do. I root for her in her career and everything she's doing. And I expect that she'll be up here winning Emmys herself for all the awesome work that she does."
One day Chrissy will be out there winning those Emmys (I believe her talent knows no bounds!), but until then, fans will continue to stay glued to her outspoken tweets, witty retorts, and reaction faces.