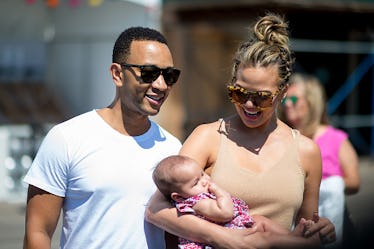 Chrissy Teigen & Luna's Adorable Avocado Bodysuits Will Give You Halloween Inspo
Michael Stewart / Contributor / Getty Images
It doesn't take much for Chrissy and co. to wow us with pure adorableness. As the mother closes the photo sessions for her Cravings 2 cookbook, she gifted fans with arguably the best picture on the internet. Chrissy Teigen and Luna's matching avocado bodysuits will not only make you ooh and ahh, but they'll definitely get you thinking about your Halloween costume.
The dynamic duo decided to strike a pose in front of some greenery — to make their avocados seem extra sweet — and it's pretty much the most adorable thing you'll ever witness. Teigen captures the photo with: "Last day of cookbook shooting!! ❤️❤️❤️ to @aubriepick@monicarosestyle@1maryphillips@laurapolko@patrickta@jenatkinhair@adeenasussman@fannyfoodstyle ahhhhh so many more people." If these photos make their way into her new book, the recipes are definitely going to fall by the wayside.
But Teigen's latest social media posting spree didn't stop there. She decided to up the cute factor with a video of lil' Lu shaking her groove thing to some Beyoncé... who was wearing her avocados, of course. What better way to listen to Queen Bey than with a rockin' outfit?
Though it's unclear what Cravings 2 will feature — and how it will throw avocados into the mix — these photos will catapult the release onto the bestseller list.
Last year, Teigen announced the followup to Cravings, and decided to give a sneak peek of some of the recipes she started to test. On Nov. 4, 2016, she wrote: "It's happening! First day of cook bookin' for book two! Let me know if there's anything you'd looooove us to have in Cravings part two!" Without doubt, fans must have requested an appearance by Baby Lu.
So let's say you want to copy Chrissy and Lu's avocado look.
If you're looking for a very millennial spin on your Halloween costume this year, you're in luck. Chrissy might've gotten the ball rolling, but you can definitely follow suit (literally) with these delicious avocado options. All Hallow's Eve is fast approaching, so you're going to want to get a jumpstart on the costume purchase.
Target is "Greatland" for a reason, folks.
This avocado Halloween costume is pure proof that Target is magic come to life. This $40 costume is taking a spin on Chrissy and Lu's bodysuit, but it's definitely a way to show your love for millennial's food of choice. To add to the "Greatland" theme, Target promises free shipping, so if that doesn't provide enough of a reason to make a purchase, nothing will.
Avocado Costume, $40, Target
Etsy, on the other hand, provides another great bodysuit option à la Chrissy and Luna.
This $27 purple leotard will definitely look similar to the girls' Cravings 2 look. Plus, the retro pants bodysuit — donned with avocados and a light lavender hue — definitely provides a nostalgic aspect to the costume, so it's a win-win all around. John Legend's ladies will be proud with this awesome selection.
Chrissy — mom, cook, and avocado-lover, gave Refinery29 an intimate response to the making of her second book and what struggles she had to overcome before starting the project. She said,
I just started working on the cookbook again yesterday. As I talked about in my essay [about postpartum depression], I was going through a really dark time, so I had started the cookbook, and then I had to completely put it on pause, because it was a lot for me. So as of yesterday, I started doing really great, and I really got back into the mode of cooking. I've been emailing my editor and co-editor non-stop for the past two days making these recipes and brainstorming and I'm having so much fun. I'm really starting to feel like myself again. I'm going to try to knock out a bunch of recipes, go on tour with John and Luna, live on this tour bus, and then come back, do a few more recipes, shoot the cookbook, and then have it out for everybody by the beginning of next year.
Cute photos and fun recipes aside, you have to admire Chrissy's honesty and willingness to discuss her hardships. More power to you, Chrissy. We cannot wait for Cravings 2... and more Lu pics.
Check out the entire Gen Why series and other videos on Facebook and the Bustle app across Apple TV, Roku, and Amazon Fire TV.