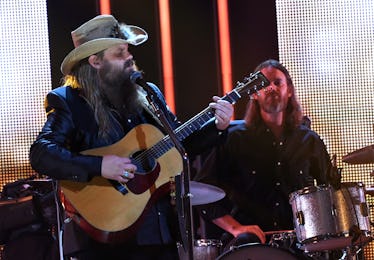 These 8 Chris Stapleton Songs Will Get You Pumped For His Grammys Performance
Rick Diamond/Getty Images Entertainment/Getty Images
Justin Timberlake encouraged everyone to "remember the name" of Chris Stapleton back in 2014. Four years later, you definitely can't forget his name. Chris Stapleton is one of the biggest country artists of the moment. Fans are completely enticed by his songwriting, amazing vocal range, and guitar jamming capabilities. In addition to being nominated for three Grammy Awards this year, Stapleton will also be performing during the show. My advice? Start listening to him on repeat to get yourself pumped for the live performance. Below are eight Chris Stapleton songs that will make you even more excited to see him at the Grammys.
In 2015, Stapleton took home the CMA's New Artist of The Year award, and his momentum has not slowed down. Besides writing countless songs for other artists, Stapleton has created amazing bops for himself that instantly became country classics. Stapleton has three big nominations at this year's Grammy Awards — Best Country Album, Best Country Solo Performance, and Best Country Song (writer for "Broken Halos" by Mike Henderson). The other nominees in those categories are below:
BEST COUNTRY ALBUM
Cosmic Hallelujah, Kenny Chesney
Heart Break, Lady Antebellum
The Breaker, Little Big Town
Life Changes, Thomas Rhett
From a Room: Volume 1, Chris Stapleton
BEST COUNTRY SOLO PERFORMANCE
"Body Like a Back Road," Sam Hunt
"Losing You," Alison Krauss
"Tin Man," Miranda Lambert
"I Could Use a Love Song," Maren Morris
"Either Way," Chris Stapleton
BEST COUNTRY SONG
"Better Man" Taylor Swift, Songwriter (Little Big Town)
"Body Like A Back Road" Zach Crowell, Sam Hunt, Shane McAnally & Josh Osborne, songwriters (Sam Hunt)
"Broken Halos" Mike Henderson & Chris Stapleton, songwriters (Chris Stapleton)
"Drinkin' Problem" Jess Carson, Cameron Duddy, Shane McAnally, Josh Osborne & Mark Wystrach, songwriters (Midland)
"Tin Man" Jack Ingram, Miranda Lambert & Jon Randall, songwriters (Miranda Lambert)
Obviously, Stapleton is no stranger to the Grammys, and his performance will make his nominations even more exciting. Below are just a few songs to get you in full Stapleton mode.
"Broken Halos"
Personally, this is one of my favorite Chris Stapleton songs. The music is so gorgeous and the lyrics are emotional. Pro tip: Don't listen to this song after applying makeup. A few lyrics from "Broken Halos" read,
Seen my share of broken halos/Folded wings that used to fly/They've all gone wherever they go/Broken halos that used to shine/Broken halos that used to shine
Why are there so many broken halos? Help us, Chris.
"Tennessee Whiskey"
This is probably Stapleton's most popular song, but it doesn't make it any less amazing to listen to. The chorus to "Tennessee Whiskey" will probably be stuck in your head all day.
You're as smooth as Tennessee whiskey/You're as sweet as strawberry wine/You're as warm as a glass of brandy/And honey, I stay stoned on your love all the time
"Drink You Away"
Techincally, Stapleton is only featured in this Justin Timberlake track, but what would the song be without Stapleton? The video above is from the 2015 Country Music Awards when the two performed "Tennessee Whiskey" and "Drink You Away" on stage.
After their unforgettable performance on Nov. 5, 2015, Timberlake took his gratitude to Instagram and shared the sweetest message. The caption of a photo of him and Stapleton said,
About last night... I've been friends with @castapleton and his lovely wife Morgane for a couple of years now, but sometimes you meet people and feel like you've known them your whole life. He is one of THE MOST gifted musicians, songwriters, and vocalists I've ever met. So stoked to share this moment with him and watch him put the WHOLE WORLD on notice.
Stapleton and Timberlake have low-key the greatest bromance in the music business.
"Parachute"
Stapleton performed this gem on SNL in 2016. This performance solidified what most people already knew — Stapleton's voice is like an angel and sounds unbelievably perfect live. The lyrics to "Parachute" will make you wish Stapleton was your parachute.
You only need a roof when it's raining/You only need a fire when it's cold/You only need a drink when the whiskey/Is the only thing that you have left to hold/Sun comes up and goes back down/And falling feels like flying till you hit the ground/Say the word and I'll be there for you/Baby, I will be your parachute
"Outlaw State of Mind"
"Outlaw State of Mind" brings a grittier Stapleton to the forefront. Honestly though, HOW IS HIS VOICE SO PURE? The lyrics to "Outlaw State of Mind" read,
I got friends that know how to have a good time/Yeah they roll their own and drink Carolina shine/I've seen the devil in a dark coal mine/I've been higher than a Georgia pine/And there's people all across the land/From West Virginia to the Rio Grande/Hold on like I am all the time /In an outlaw state of mind
The lyrics are super fun, and will make you feel like a badass.
"More of You," "When The Stars Come Out," "Whiskey And You"
Stapleton and his wife, Morgane Stapleton, do quite a bit of musical work together. The video above is the two singing during one of NPR's "Tiny Desk Concerts." Kind of amazing how so much talent could be in one household.
Obviously, Chris Stapleton is an extremely talented musician. Don't miss his performance during the 60th Annual Grammy Awards on Sunday, Jan 28. on CBS.
Check out the entire Gen Why series and other videos on Facebook and the Bustle app across Apple TV, Roku, and Amazon Fire TV.