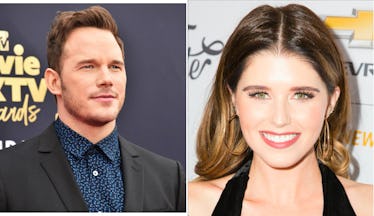 Chris Pratt Is Reportedly Taking Things Slow With Katherins Schwarzenegger For A Good Reason
Alberto E. Rodriguez/Getty Images Entertainment/Getty Images; Alison Buck/Getty Images Entertainment/Getty Images
It's been two weeks since we told you about Chris Pratt's super-casual date in the park with Katherine Schwarzenegger. And while it looks like the couple has been out together a bunch of times and has been talking consistently for the last two months, we now have some new news about Chris Pratt and Katherine Schwarzenegger's relationship status that will give you hope if you're still trying to slide into those DMs. I mean, it's like a tiny sliver of hope, but it's there. A source told Entertainment Tonight that while the pair hit it off after being introduced to each other by Katherine's mom Maria Shriver, Pratt wants to take things slow. And the reason, it turns out, is because of his split with Anna Faris. Could you even love him more?
"Katherine and Chris have been on a few dates," the source said. "The two really enjoy their time together, but it's still in the early stages. Chris is focused on the press of his movie and his son Jack, but when he does get some free time, he spends it with Katherine." Awww, that's so cute. But now listen closely, because here comes the part where you might still have a chance.
"Chris and Anna split about a year ago, and Chris wants to move slow," the source explained. "He's in no rush for a relationship."
Such a stand-up guy, am I right? Elite Daily reached out to Pratt and Schwarzenegger's teams about the report, but did not hear back by the time of publication.
Meanwhile, Pratt shares his five-year-old son Jack with Faris, and when the couple announced that they were splitting back in August 2017 after eight years of marriage, they asked for privacy for his sake.
"Anna and I are sad to announce we are legally separating," Chris wrote on Facebook at the time. "Our son has two parents who love him very much and for his sake we want to keep this situation as private as possible moving forward."
Then in April, Pratt talked a little more about co-parenting to Entertainment Weekly while he was out promoting his new movie, Jurassic World: Fallen Kingdom.
"Divorce sucks," he said. "But at the end of the day, we've got a great kid who's got two parents who love him very much. And we're finding a way to navigate this while still remaining friends and still being kind to one another."
Amen! But then, just as the reports started surfacing about things between Schwarzenegger and Pratt heating up, some media outlets began reporting that Faris was experiencing cold feet in her own relationship with boyfriend Michael Barrett. According to RadarOnline, it's because the actress still has feelings for her ex. "Things are heading in a serious direction but Anna's got mixed feelings about marriage," a source reportedly said. "Michael's a great guy, her parents love him and she doesn't want to lose him but truth is she's still not over Chris."
But don't worry, Chris — according to a report on GossipCop, this is all just a bunch of FAKE NEWS.
"The site's account of the situation is simply fabricated," the report states. "Just a couple of weeks ago, Faris and Barrett enjoyed a trip to Italy with her 5-year-old son Jack and other family members."
It must really suck to have to watch your relationship play out in the media this way — especially when you have kids. True or not, I wish both Pratt and Farris the best of luck with moving on. Although I'd probably take things slow if I was dating Schwarzenegger, too, if for no reason other than the fact that this is her father: