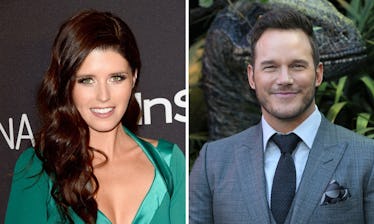 Chris Pratt & Katherine Schwarzenegger's Astrological Compatibility Shows It May Get Rocky
David Livingston/Getty Images Entertainment/Getty Images ; Frazer Harrison/Getty Images Entertainment/Getty Images
Are you still not over Chris Pratt and Anna Faris breaking up? Well, it's been a year, so it's time to let it go. It looks like Pratt certainly has! He's reportedly moved on and seems to be dating Katherine Schwarzenegger, author, blogger, and daughter of Arnold Schwarzenegger and Maria Shriver. Naturally, that means it's time to take a closer look at Chris Pratt and Katherine Schwarzenegger's astrological compatibility, to find out whether or not we should ship these two, or if Pratt's just going to break our hearts all over again. Because honestly, I just can't take it.
Here's some quick background on this rumored couple. While neither have officially confirmed the relationship, they were allegedly first set up by Schwarzenegger's mother, Maria Shriver. A source told People, "Maria helped set them up," adding, "It's still new." Since then, they have been spotted on multiple dates, starting with a romantic picnic in Santa Barbara. They've also attended church together, and it seems Pratt has met Schwarzenegger's family as well.
It seems like things are getting serious between these two, but what can we learn about this budding romance from their zodiac signs? Well, a lot, actually. Chris was born June 21, making him a Cancer. Schwarzenegger's birthday is Dec. 13, so she is a Sagittarius. First of all, it's worth noting that Cancer and Sagittarius is a very rare combination that is seldom drawn to each another. That's because each sign's ideal relationship is the exact opposite of the other's. So, what are the odds these two are going to make it? Well, here's what the stars say.