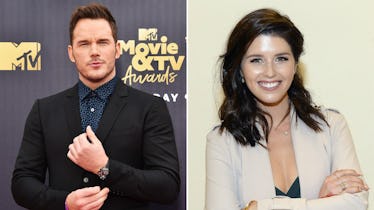 Chris Pratt & Katherine Schwarzenegger Aren't Dating Seriously, So You Still Have A Chance
Alberto E. Rodriguez/Gustavo Caballero/Getty Images Entertainment/Getty Images
When a beloved celebrity couple separates, it can sometimes take an eternity to be OK with the split. I'm personally still trying to get over Chris Pratt and Anna Faris, so please don't @ me because it's been a pretty rough road. But look, we all know that Chris and Anna are, at the end of the day, two regular humans (albeit it, very talented and good-looking ones), and despite their divorce, they might meet someone new and fall in love once more. So when word got out that Chris Pratt was spotted with Katherine Schwarzenegger, the rumor mill began churning almost immediately. But let's all cool it for a hot minute, because it looks like Chris Pratt and Katherine Schwarzenegger aren't dating seriously, which means you've still got a chance.
Over the weekend, the Jurassic World: Fallen Kingdom star was seen on a picnic with Katherine Schwarzenegger, the daughter of Arnold Schwarzenegger and Maria Shriver. OK, personally, a picnic is something you do with someone you're dating, or, at the VERY least, someone you're *trying* to date. You ever see just two chill friends hanging out, picnic-ing on a Saturday? No.
But, I digress.
According to People, a source told the outlet that Pratt hasn't "dated anyone seriously after he separated from Anna," but that "he has been on dates." Elite Daily reached out to both Pratt and Schwarzenegger's teams for comment on the report, but has not heard back at the time of publication.
So I'm assuming that these two aren't dating per sé, but did go out on a picnic date just to see if there was a connection there. People reports that it looked like the pair hit it off and were seen "smiling and laughing":
The duo dressed casually as they shared sandwiches, potato chips and apples on a park bench in Santa Barbara, California on Sunday. Sitting across from one another, they were seen smiling and laughing throughout the date.
SMILING? LAUGHING? SHARING SANDWICHES AND POTATO CHIPS AND APPLES? HOW DARE THEY?
Kidding, kidding. Of course, we want both Chris Pratt and Anna Faris (and I guess Katherine Schwarzenegger?) to be happy with their lives, even if it means being without each other. Sob.
Back in April while promoting the release of Jurassic World: Fallen Kingdom, Pratt talked about his divorce from Faris in an interview with Entertainment Weekly and the trials and tribulations that come along with it. He said,
Divorce sucks. But at the end of the day, we've got a great kid who's got two parents who love him very much. And we're finding a way to navigate this while still remaining friends and still being kind to one another.
What's that sound? Oh, right, it's my heart breaking into a million pieces ALL OVER AGAIN.
When asked what his relationship was like with Faris, he said, "It's not ideal, but yeah, I think both of us are actually probably doing better."
Faris responded to Pratt's comments about divorce, saying that he's "completely right," but thankfully, the two can stay friends throughout everything. Faris sat down with SiriusXM Hits 1 to promote her movie, Overboard, and said of the situation, "We have a great friendship. We really do. And we always have. And yeah, it's always tough to envision your future as one thing, but I think there's a lot of love."
It's fine! I'm fine. Everything's fine.
But at the end of the day, it seems that both Pratt and Faris are totally focused on ensuring that their son, Jack, grows up with two parents who adore the hell out of him. A source told People, "When Chris is not working, he spends a lot of time with Jack," which is the cutest thing ever:
OK, well actually Jack is the cutest thing ever, but you catch my drift.
So if you need me, I'll be writing in my journal about love and the meaning of life, and also probably scribbling my first name next to Chris Pratt's last.