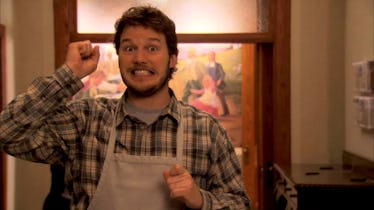 Chris Pratt Is Down For A 'Parks & Rec' Reboot & He Has An Idea For Andy's New Job
NBC
Remember when Chris Pratt wasn't a mega movie star and we just knew him as the dorky but lovable Andy Dwyer on Parks and Recreation? He may be the face of the rebooted Jurassic Park franchise, but Pratt is clearly still proud of these comedy roots. Soon after his former co-stars Amy Poehler and Nick Offerman publicly supported the idea of a Parks and Rec revival, Pratt has voiced his thoughts on donning Andy's disheveled clothes again. Chris Pratt is down for a Parks and Rec reboot, and if it happens, I have my fingers crossed for a remix of "Bye, Bye Li'l Sebastian."
At the Los Angeles premiere of Jurassic World: Fallen Kingdom, Pratt spoke to E! News about the possibility of reuniting with his Pawnee pals someday. The NBC series concluded in 2015 after seven seasons, and while some may say that it's too soon to think about a revival, Pratt seems up for the potential opportunity no matter how the timing plays out. He told E!:
As long as I'm in town, yeah, I'll do it. It films like 10 minutes from my house so that would be dope. I miss Andy too. I would love it. I know I would do it.
Clearly, you can become a dinosaur expert or a Guardian of the Galaxy and still just long to be a normal dude like Andy at the end of the day.
Despite how recently Parks and Rec wrapped, the buzz about a revival series never really died down, thanks to the cast's evident love for each other and the show. Poehler's BFF Tina Fey even suggested at June 10's Tony Awards that the two of them could create a joint 30 Rock and Parks and Rec spinoff (yes, please).
While I'd love to see Andy interact with 30 Rock's Kenneth, the most recent talk of a Parks and Rec reboot stems from Poehler and Offerman, who co-host the upcoming competition series Making It. The duo stamped their approval on the revival possibility while on The Ellen DeGeneres Show together. Poehler said:
I'll speak for everybody and say we would all do it. I think we'd all do it someday, it'd be amazing.
Poehler, Offerman, and Pratt aren't the only original cast members busy at the moment, so when it comes to reviving the show, I would put emphasis on that "someday" Poehler mentions. In the meantime, Pratt has an idea for Andy's new job in a reboot, telling E!:
I think [Andy] becomes a weatherman. He would be a good weatherman. He would have no idea what he's even saying.
In Season 7, Andy had his own TV show on public access and was later a part-time National Parks employee. He and April moved to Washington, D.C., and in the season's flash forwards, they had their first child, Jack. We also found out that by 2025, April and Andy were expecting another baby, which would be so interesting to see if a revival picks up where these flash forwards ended. Andy would obviously become a weatherman after his public access show inexplicably fails and he still wants to be a local star. Take Your Kids to Work Day is also his favorite national holiday. That sound cool, NBC?
Pratt has always been vocal about what Parks and Rec meant to him, telling IGN shortly before the series finale:
I hope that I could possibly have the good fortune of finding another group of people like this, but I don't expect I ever will. I don't care how much money someone would offer me or what I could be offered, I wouldn't abandon ship. There's no f**king way. This team was awesome, and the process of making this show spoke to me and was so perfect for me like the way I like to work. Like it's loose, and it's fun, and you get to try something new every take, and you get to have the opportunity of making Amy Poehler laugh or making Adam Scott laugh.
He may be a bona fide silver screen star now, but Pratt is still quite the Andy Dwyer at heart. We may not see the character back onscreen any time soon, but Pratt is in the upcoming Jurassic World: Fallen Kingdom, which hits theaters on Friday, June 22.