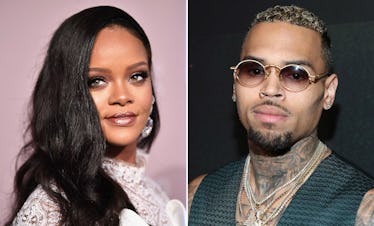 Fans Are Pissed At Chris Brown For The Comment He Left On Rihanna's Sexy Instagram Photo
Dimitrios Kambouris/Getty Images Entertainment/Getty Images & Jonathan Leibson/Getty Images Entertainment/Getty Images
Music, makeup, and fashion icon Rihanna is out here celebrating the launch of her new Savage x Fenty lingerie holiday collection and it has gained people's attention. One person in particular, in fact. On Sunday, Nov. 25, she posted a sultry photo on Instagram showing off some of her sexy apparel which quickly earned over 3 million likes. She also got a comment from her ex, Chris Brown. Chris Brown's comment on Rihanna's sexy Instagram photo has gained just as much attention as the photo itself, and fans are not happy. Mainly, everyone is looking for Brown to back the hell off.
Fans will recall Rihanna and Brown dated way back in the day when they were both in their early-early 20s. In 2009, shocking reports broke revealing Chris Brown was charged with assaulting Rihanna in his car on the night of a Grammy's party and Brown ultimately ended up pleading guilty to "one count of assault with the intent of doing great great bodily injury" and was served 5 years probation, 180 days in jail (or the equivalent), 1,400 hours of labor-oriented services, and was mandated to a attend domestic violence counseling class for a full year.
He and Rihanna briefly reconnected romantically sometime around 2012-2013, though they eventually called it quits for good.
The specifics regarding Brown's current relationship with Rihanna has her fans on the constant defense against the "Freaky Friday" singer. So, when he popped up in the comments section of her Savage x Fenty Insta post, they jumped to action. Here is her photo:
Brown commented not once, but twice with the same thing — just a simple surprised-face emoji. Fans responded with things like "stay away" and "leave her alone."
While it might be jarring to see Brown pop up in RiRi's comments, it's certainly not the first time he's done it. In 2017, Rihanna posted a picture of herself in an elaborate and decorated outfit for the 2017 Crop Over Festival in Barbados. Again, Brown only left an emoji (this time just two eyes) and again, fans were not having it. They wrote things like "gtfo" and "PLs keep your negative energy away."
Then, as recently as February 2018, Brown wished the "Umbrella" legend a happy birthday. This time, he heightened from leaving emoji comments to creating his own full post. In an Instagram post that has since been deleted, Brown shared a baby picture of Rihanna with the caption, "HAPPY BIRTHDAY @badgalriri." It was definitely a WTF?-moment, however, one source told US Weekly Rihanna and Brown are way more in touch than the public knows.
"Fans might have been surprised that Chris wished Rihanna a happy birthday so very publicly on social media," said the source. "However, they are good friends and talk all the time."
Neither Brown nor Rihanna have made any official statements on the current status of their relationship, which leaves fans piecing together the details through social media. From here, one thing is totally clear — Rihanna is slaying in every aspect of her life. Go on, Queen.
If you or someone you know is experiencing domestic abuse, call 911 or the National Domestic Violence Hotline at 1(800) 799-SAFE (7233) or visit thehotline.org.