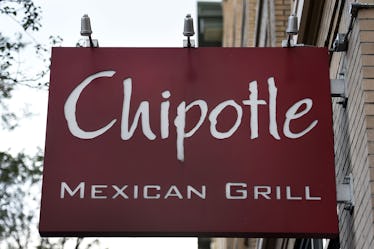 Chipotle's Website Crashed During Their Free Guac Promo, & People Aren't Happy
Steve Dykes/Getty Images News/Getty Images
It's safe to say that Chipotle isn't having its best National Avocado Day. While everyone knows that guac is normally extra at the Tex-Mex chain, Chipotle created plenty of buzz among avo-lovers when they revealed that all guacamole included with purchases made through Chipotle's mobile app or website would be complimentary on Tuesday, July 31. Unfortunately, the promo was a little too successful, and Chipotle's website and app crashed on Free Guac Day right before lunchtime. Their complimentary guac literally broke the internet, and hordes of angry customers are voicing their outrage on Twitter.
Countless millennials and avocado devotees were met with disappointment when they headed to Chipotle's website and app around noon Eastern Time to get in on the special freebie, only to be met with an error message and a notice that the promo code AVOCADO wasn't working. Understandably, people were pissed. Never mind that guacamole usually only costs you $1.80, and can actually be gratis if you don't order any meat. Never mind that you could only get the complimentary guac with the purchase of another menu item online. Is there anything worse than toying with our emotions and dangling the promise of free guac, only to fail to deliver? No, no there isn't.
The Twitterverse was already worked up to a frenzy by the time ChipotleTweets finally shared an apologetic Tweet to their followers. "Free guac on National Avocado Day, groundbreaking," they wrote, attempting to make light of the situation. "Actually, internet-breaking. Getting our servers back up ASAP."
For many hungry customers who'd been counting on the complimentary avocado spread for lunch, their apology was a little too little too late, and they let Chipotle have it without holding back. Reactions ranged from people wondering how the fast food chain hadn't learned from the debacle of Build-a-Bear's recent "pay your age" promo gone wrong to those who renounced their loyalty to Chipotle in favor of competitors like Qdoba. Needless to say, things got savage in the comments section.
It sounds like the lesson of the day is that you never, ever, mess around when it comes to promises of free guacamole. While the app was down for about four hours, from about noon to 4 p.m. ET — basically all of lunchtime, guys — several users noted that they were able to go to a brick and mortar Chipotle location and have the manager honor the online promotion, so that's always an option.
Chipotle tweeted out shortly before 4 p.m. ET that the app was back up and that the guac was still free, so if you've been holding out now is your moment to run to Chipotle and get the free guac that everyone else was missing out on. Even better? The latest tweet from Chipotle says that you don't even need the code to get free guac with an entree. That's one way to say you're sorry.
Considering how excited people were when the company first announced that guacamole would be on the house to "reward [their] customers' guac obsession" just a few days earlier, I'll be staying tuned to see if Chipotle decides to do a free guacamole do-over in the future.