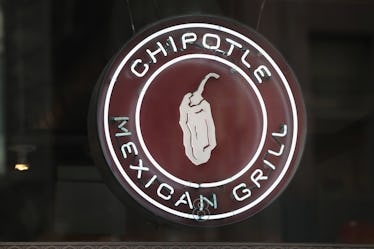 You Can Still Get Free Guac At Chipotle, So Eat Up
Scott Olson/Getty Images News/Getty Images
Chipotle is having a rough go at it over the last 24 hours. The Mexican fast-casual restaurant chain offered customers free guac for one day only on Tuesday, July 31, but it didn't go so well. Technical glitches caused Chipotle's website and mobile app to crash. As a result, loyal patrons and guacamole lovers nationwide were unable to chow down on their free scoop of mashed avocado. As you can imagine, this sent the internet into a tizzy (and rightfully so, because hello, free guac). In order to make amends with customers, Chipotle's free guac deal is extended one more day to continue the celebration of National Avocado Day.
If you were one of the countless people that tried to access the free guac promo code on Chipotle's app or website on Tuesday, July 31 and could not, you're in luck. The Tex-Mex joint is prolonging the no-cost guac deal for an extra day after an error message appeared on Chipotle's website and app around lunchtime on July 31. The extended promotion won't last long, though. The last day to score your free guac (or try to, anyway) Wednesday, Aug. 1 is, so go ahead and place your order now. The deal is good while supplies last, but after yesterday's nightmare, I sure hope Chipotle won't run out of free guac.
To score your free guacamole, you must purchase an entree on Wednesday, Aug. 1, using the online or mobile ordering system. This means that you can't just show up at your nearby Chipotle and get free guac. You must pre-order. To do so, visit the Chipotle website or download the Chipotle mobile app, and log in or create an account.
An entree qualifies as a burrito, salad, bowl, set of tacos, salad, or kids meal. Once you've added your meal to your order, make sure to include a serving of guacamole. The discount should be automatically applied when you go to check out, according to Chipotle. This offer is only valid at participating Chipotle locations nationwide and cannot be combined with other offers, coupons, or promotions.
When customers were unable to claim their free guac, all hell broke loose. If you visited the Chipotle website, you probably saw an error message and a note that indicated the promo code "AVOCADO" wasn't usable. Depending on what you order, guac is usually extra. If you eat at Chipotle with an regularity, you know that free guac doesn't come around very often. So, when it does, you must take full advantage. That's my hot take, anyway.
At least the Tex-Mex chain is extending the free guac promotion for an extra day, so I can enjoy some of the tasty mashed avocado goodness without the headache. Technical problems happen. I'm just going to call this one a lesson learned for Chipotle and try again shortly.
With lunchtime fast approaching, I'll be crossing my fingers that there are no further issues with Chipotle's online ordering system. If there's anything I've learned over the last 24 hours, it is that Chipotle fans are serious about their guac.