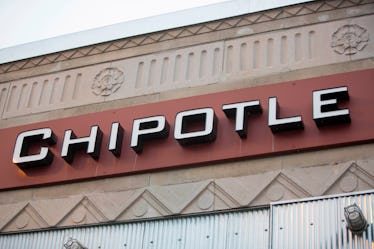 Chipotle Is Testing An Avocado Tostada, & It's Every Avo Lover's Dream Come True
Scott Eisen/Getty Images News/Getty Images
Chipotle is totally targeting millennials with a potential new menu item, and I'm not even mad about it. The fast-casual Tex-Mex chain is jumping on the avocado toast bandwagon, and it's all the deliciousness of their guac without paying extra. Um, yes. Honestly, I'm just going to say goodbye to my mortgage forever, because Chipotle's Avocado Tostada is being tested right now, and it's a millennial's dream.
Although Chipotle's Avocado Tostada is currently in the early pilot stages, avocado toast's better and less basic sister is already making waves at the chain's NYC NEXT test kitchen, which is where Chipotle tests possible new treats. As a member of Gen-Y, you're pretty much required to drop everything for a slice of avo toast, and Chipotle's Tex-Mex take on the dish is making me strongly consider changing my go-to order. Sorry burrito bowl, it was a good run while it lasted.
According to the fast-casual chain, the Avocado Tostada consists of a "crispy, corn tortilla that has been fried flat then topped with our fresh, homemade guacamole and your choice of salsas, lettuces, and cheese," aka "the Chipotle version of avocado toast." If that doesn't make your millennial heart beat faster, I don't know what will.
If you're somehow still on the fence, don't just take my word for it. The reviews are starting to come in, and people are feeling the #guacgoals. According to Ali Weiss of Foodbeast, the Avocado Tostada stood out to her as the "tastiest offering" on the testing menu. Considering that quesadillas, nachos, Mexican chocolate milkshakes, a salad tossed with avocado-citrus dressing, and a Paloma are all in the works at the test kitchen, that definitely caught my attention. Apparently, according to Weiss, Chipotle's famous guac was layered on so generously that none of the toppings shifted, and I'm already salivating.
Plus, at only $3.15 per tostada, according to USA Today, the guac bonanza is a total steal. Why stop at just ordering one? While it remains to be seen if Chipotle will put the crispy offering on its permanent menu nationwide and basically usher in the guac-apocalypse, you can test out the deliciousness yourself by heading to the Chelsea, Manhattan-based testing kitchen and satisfying all your avo cravings.
The only thing that could make that Avocado Tostada even better? Washing it down with some millennial-approved sips. Luckily, Chipotle NEXT is also making their first foray into desserts with a Mexican cocoa-inspired chocolate milkshake, and my body is so ready. According to USA Today, 12-ounces of the summer-approved refreshment is just $4 and features "hints of cinnamon and spice."
Meanwhile, if you're looking for a boozier option, Chipotle's Paloma is now in the testing stage, and the so-called "tangy, boozy twist on a paloma meets margarita" rings in at just $6.20. Plus, you can enjoy these happy hour prices at any hour of the day, so your weekend is about to get so lit.
Chipotle has yet to let slip if the new Avocado Tostada will be making its way out of the pilot stage and into my local Chipotle, according to Bustle, but with rave reviews like these, I don't think I'll have to wait long to get my guac fix and live my best millennial life.