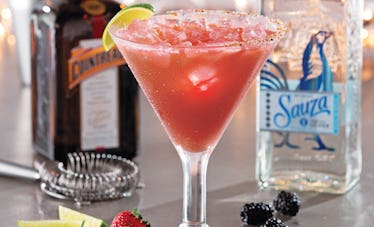 Chili's Is Offering A $5 Holiday Margarita In December That'll Get You In The Spirit
Courtesy of Chili's
It's officially December, which means a handful of wintry drinks are about to hit the market (if they already haven't, that is). One seasonal sip that I cannot wait to try is Chili's' $5 Margarita for December, the Red Nose Rita. Sure, margaritas might not be on your "to-drink" list during the frigid months — but Chili's' boozy spin on the Christmas singalong might change your mind. Not only is the name of the beverage super festive, but its red appearance is super fitting and mimics your favorite reindeer's shiny nose. In other words, it's super 'Grammable.
Like every other Margarita of the Month at Chili's, the Red Nose Rita will only be available for one month, starting on Dec. 1. However, once you find out what kind of booze the drink it made of, you probably won't want to wait until the end of December to try it. According to Chili's, the Red Nose Rita is made with a mixture of Cointreau, Sauza Blue tequila, strawberry puree, and Monin blackberry syrup. With that being said, you can expect a festive alcoholic drink with a strong berry taste (YUM).
If you try it and love it (I know I'm going to), drink responsibly.
If you're not a "berry person" and aren't sure whether or not you should give the Red Nose Rita a try, maybe you should take its price into consideration. Like the other margaritas that Chili's features monthly, the December drink only costs $5. When you think about it, a beverage that cheap (and delicious) is hard to pass up. In fact, it probably costs less than the holiday lattes you've been splurging on throughout the season so far. (I'm not saying that's a bad thing; I love holiday lattes.)
Those of you who end up trying (and loving) the Red Nose Rita at Chili's will probably be sad to see it go in January — but you shouldn't be. Why? Because Chili's has a surprise up its sleeve in honor of the new year. According to the restaurant, customers will be able to decide which margarita gets to be the Margarita of the Month for January 2019. They'll be able to vote via social media or email from Dec. 4 to Dec. 9, and the winning marg' will be named the first Margarita of the Month in the new year. With that being said, keep your eyes open for the contest when the time comes.
If you're craving a boozy beverage without the tequila, maybe you'd be interested in Applebee's' holiday special. Starting on Nov. 30, the restaurant will be selling Dollar Jolly drinks in honor of the season. The Dollar Jolly drinks are made with vodka and either green apple or cherry Jolly Rancher flavor. Each drink is only $1 and even comes with an actual Jolly Rancher hard candy on the side. If you'd rather opt for one of those, drink responsibly.
Whether you're hoping for a festive margarita or a sweet vodka drink, you have a options. The best part is that both drinks will cost you $5 or less, so they probably won't cut into your holiday gift savings. It's a total win-win.