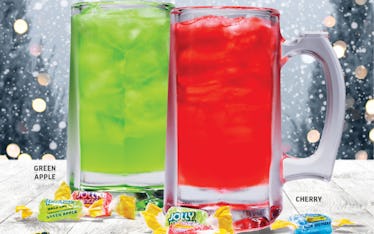 Applebee's $1 Jolly Rancher-Flavored Sips Will Make Your Spirits Bright In December
Courtesy of Applebee's
Every month, Applebee's releases a new drink special, and theme for December 2018 does not disappoint. To usher in the holiday season, Applebee's is selling Dollar Jolly drinks in December that taste like Jolly Ranchers. Seriously, the beverages are made with either Green Apple or Cherry Jolly Rancher drink mix packets, and it turns out that the sweet-and-sour candies make the most delicious drinks. While you're out there spending your hard earned money on presents for everyone on your list, take a load off with a Dollar Jolly drink from Applebee's.
The popular bar and grill restaurant is serving up cheerful cocktails that taste just like Jolly Ranchers. I've never really thought about making a cocktail out of Jolly Ranchers, but it is an absolutely brilliant idea. Applebee's' Dollar Jolly drinks will be available starting on Friday, Nov. 30 — one day before the start of the most festive month of the year, according to Applebee's.
The red drink is flavored with Cherry Jolly Rancher mix, and the green drink is flavored with Green Apple Jolly Rancher mix. Both beverages are mixed with vodka and served in a frosty cold mug for you to enjoy (as long as you're 21 years and older). As a bonus, your drink will be served with either a Cherry Jolly Rancher or Green Apple Jolly Rancher depending on which drink you order.
"We created a drink to help spread the cheer as friends and loved ones gather together during the holidays," Patrick Kirk, vice president of beverage innovation at Applebee's, said in a press release. "The Dollar Jolly embodies the holiday spirit: joy, delight and good times. Oh, and vodka too."
The best part? Each drink only costs $1. If you are watching your budget this holiday season, Applebee's is the place to be. You can even pick up a few gifts while you are there. Right now, Applebee's is running a promotion that gets you a free gift card with a gift card purchase. When you buy a $50 gift card from Applebee's, you will get a complimentary $10 gift card to use for yourself. The bonus gift card is enough for a drink and an appetizer or another food menu item, so order up.
I am pretty jazzed about both of these drink options, and I wouldn't be mad if Applebee's someday expanded their Jolly Rancher drink offerings to Grape or Blue Raspberry. For now, the Green Apple and Cherry Dollar Jolly drinks are perfect for a cup full of cheer. If you go, make sure to snap a side-by-side picture of each drink and share it. The bold green and vibrant red Dollar Jolly drink colors are perfect for the 'Gram.
Applebee's Dollar Jolly drink special for December is available at participating restaurants and is only available while supplies last. It's a cheerful place for a post-work happy hour or a holiday hang with your friends. Applebee's encourages all patrons to enjoy the Dollar Jolly drink deal responsibly, so make sure to call an Uber or Lyft if you have a little too much fun. Cheers!