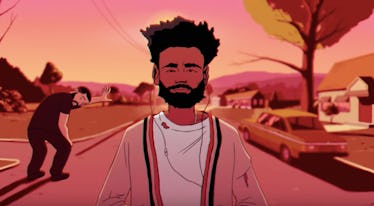 This Childish Gambino Video Calls Out Drama Like Nicki Minaj & Travis Scott's Feud
If you thought Childish Gambino's "This Is America" music video was intense, a slew of celebrity "cameos" are upping the ante in the rapper's newest release. With familiar faces like Kanye West, Michelle Obama, The Weeknd, and Drake, Childish Gambino's "Feels Like Summer" animated video seems to illustrate all the drama and beef that's been going on this summer. With everything that's going down in the video, you'll want to keep an eye out for the reference to how Childish Gambino's "Feels Like Summer" video depicts Nicki Minaj and Travis Scott's feud, which has only been picking up steam in recent days.
At the 1:30 mark of the "Feels Like Summer" video, which was released on Saturday, Sept. 1, an illustrated rendition of what looks to be the "Chun-Li" hitmaker can be seen building a castle out of colorful blocks. However, right as she completes it, a cartoon Travis Scott pulls out the yellow foundation block and the whole thing crumbles to the ground. A scowling Nicki Minaj is obviously not impressed. Elite Daily reached out to Donald Glover's representation for confirmation of who is depicted in the video but did not hear back at the time of publication.
Even so, the scenes are pretty particular to current celeb drama, so there's a good chance that Childish Gambino (aka Donald Glover) — who directed the film with Ivan Dixon and Greg Sharp — was referring to the fact that Scott's ASTROWORLD has kept Minaj's Queen from the top spot on the charts.
Furthermore, the Queen rapper hasn't made a secret of the fact that she's completely pissed about being denied the top spot on the Billboard 200 due to Scott's album ASTROWORLD (as of publication on Sept. 1, Queen was #3, ASTROWORLD was #2, and Ariana Grande's Sweetener took the #1 spot on the charts).
Minaj took to social media to drag the "Butterfly Effect" rapper for using what she sees as his trump card for chart-topping domination: his girlfriend, Kylie Jenner, and his baby daughter with Jenner, Stormi. Minaj claims that her second-place finish was due to the fact that Jenner had unfairly promoted Scott's tour ticket sales and album purchases, and was generally salty about the whole thing.
She wrote on Twitter:
I put my blood sweat & tears in writing a dope album only for Travis Scott to have Kylie Jenner post a tour pass telling ppl to come see her & Stormi. lol. Im actually laughing. #Queen broke the record of being number 1 in 86 countries. Thank Jesus & thank you to my fans.
"Travis Scott, on Thursday, when he realized that the Queen was about to have the number one album in America, he and his label decided to have Kylie and baby Stormi put up a tour pass," she said during an Aug. 21 episode of her Queen Radio show.
Minaj had her own idea of what had gone down, saying, "He had [Kylie] go and post and say, 'Hey, me and Stormi can't wait to see y'all.' How are you selling something that does not have anything to do with your album but it's being counted on Billboard as album sales?"
Just for the record, this is the masterful PR sales pitch that Kylie drafted for Instagram:
Minaj and Scott aren't the only famous faces who got the cartoon treatment in Glover's "Feels Like Summer" video, per Us Weekly. One of the scenes depicts a crying Kanye West getting a hug from Michelle Obama while he's wearing a MAGA hat, which, of course, references West's public support of President Donald Trump. Another shows Drake chasing after Pusha T, the feud that involved a phony Instagram invoice from Drake to Pusha T and Kanye West's music label for $100,000. Elite Daily reached out to Donald Glover's representation for confirmation of who is depicted in the video but did not hear back at the time of publication. Honestly, the Drake and Pusha T beef is so convoluted, though, that I'd just like to live with it in cartoon form forever.
It's safe to say that Childish Gambino, aka Daniel Glover, is getting a kick out of the whole situation. Whether or not Minaj and Scott's beef comes to an end anytime soon, it will forever be memorialized with all the other celeb feuds in the "Feels Like Summer" music video.