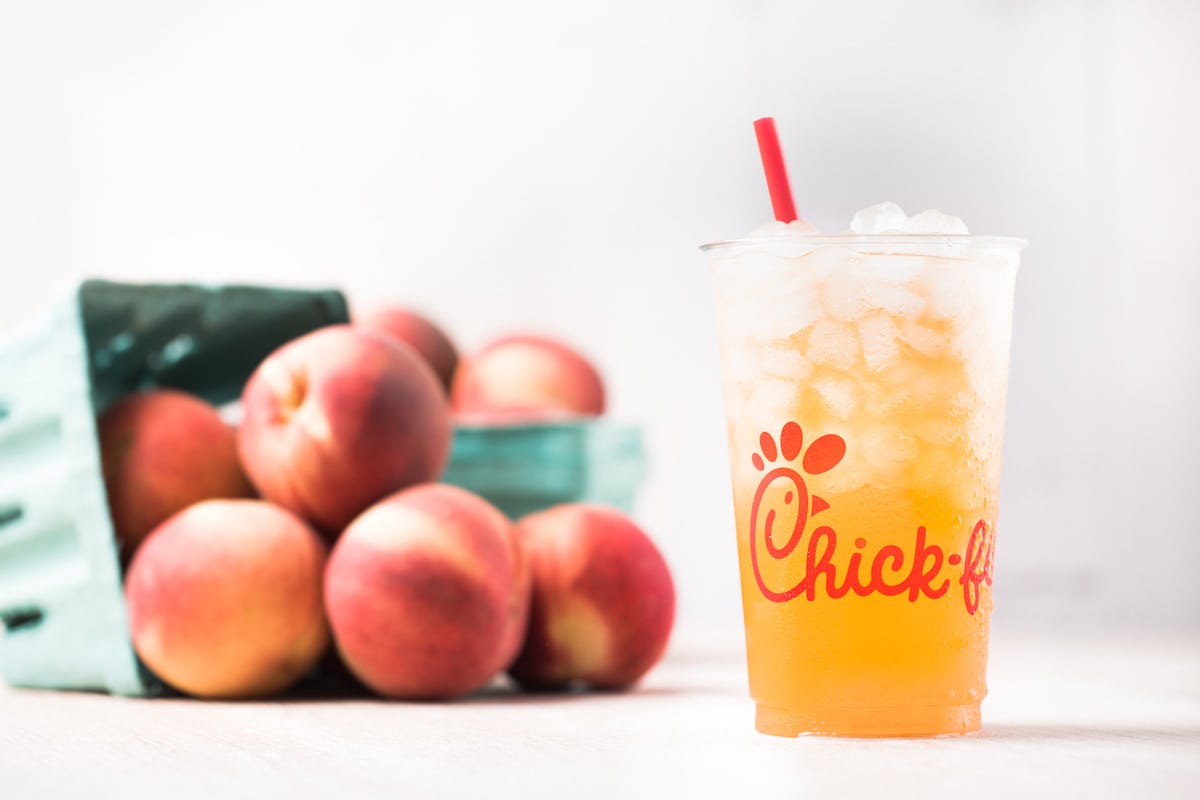 Chick-fil-A Released A New Flavored Lemonade It Sounds Refreshing AF
There's nothing quite like the first sip of a cold, refreshing beverage on a hot summer day. Two of the beverages I reach for most often in the summertime are iced tea and lemonade. These sips are quintessential summer favorites, and one of your go-to fast food spots has combined them — along with an extra splash of summer goodness — to create what will become your favorite summertime beverage. Chick-fil-A's White Peach Tea Lemonade is the seasonal sip you'll crave all summer long.
Dubbed "The Summer of Peach" in the Chick-fil-A press release announcing the new drink on Thursday, May 31, the chain revealed it's plan to make this season the tastiest (and most thirst-quenching) one yet. To satisfy your thirst this summer, you can treat yourself to the new White Peach Tea Lemonade, which also happens to be the first time Chick-fil-A's "classic Iced Tea and Lemonade" will be officially offered together in one tasty drink. Not only will two of the chain's most popular beverages finally become a delicious drink combination, but you'll also get the added summertime flavor of "fresh white peaches," per the release.
The satisfying sip won't break your summer budget, either. The White Peach Tea Lemonade sells for $1.89 for small (16 ounces) and $2.09 for a large (20 ounces).
This is exciting news for both Chick-fil-A customers and the restaurant itself. Amanda Norris, senior director of menu development for Chick-fil-A, shared in the press release how Chick-fil-A thought up this refreshing summer menu offering. Norris explained,
Customers often order a tea/lemonade combination at our restaurants. This is the first time we're officially adding the popular flavor combo to the menu, with the extra twist of an essential summer taste. The White Tea Peach Lemonade combines all the flavors of summer for a refreshing beverage we think our customers will love.
I have a good feeling customers will love this sip, too. Plus, the release shared that you can order the sip with regular Lemonade or Diet Lemonade, so you can really customize it to fit your needs. Whatever size or lemonade variety you go with, I'm sure the White Peach Tea Lemonade will be the one of the most satisfying summer sips you enjoy this season.
If you're in the mood for an even frostier drink, then Chick-fil-A can totally hook that up, too. The fast food chain also announced the return of the Peach Milkshake to help you keep cool during the the sweltering summer months. This customer-favorite sweet treat combines the summer peach flavor with your favorite summertime dessert for a drink that pairs perfectly with any summer day.
The White Peach Tea Lemonade is hitting menus nationwide following its successful test run in South Carolina Chick-fil-A locations. When it comes to testing out new items, Chick-fil-A is definitely not taking the summer off.
Customers who frequent participating restaurants in Charlotte, North Carolina and Albuquerque, New Mexico can get their hands on some tasty Chick-n-Sliders for a limited time this season. The Chick-n-Sliders are basically a cross between the breakfast Chick-n-Minis and the Original Chicken Sandwich. This tasty hybrid is created when the brand's signature chicken filet is nestled between a warm roll spread with honey butter. This yummy bite will be available in the test market during all day long (besides breakfast hours).
Beginning June 4, Tampa, Florida, Little Rock, Arkansas, and Indianapolis, Indiana Chick-fil-A customers can order the usually breakfast-only Chick-n-Minis all day long for a limited time this summer. The bite-sized snack will be available in a four-count, a 10-count, and catering trays.
Hey, if these tests go well, you might just be able to enjoy Chick-n-Minis all day long for good. Fingers crossed!
Oh, and if you want to try another test-run success, you can get your hands on the Spicy Deluxe Sandwich. The chicken sandwich with a kick was a test item in the fall of 2017, and now you can order it form the everyday menu whenever you want it (as long as your local Chick-fil-A is open, of course).
TBH, a White Peach Tea Lemonade paired with a Spicy Deluxe Sandwich sounds like the perfect summer combination. Since the seasonal sip should be around all summer long, you can also try it with all your go-to orders until find your own favorite combo. Cheers!