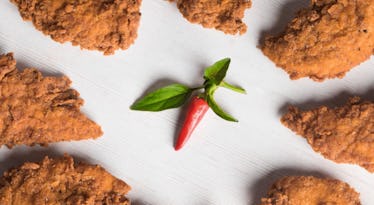 Chick-fil-A Is Testing Spicy Menu Items Because They Know How Much We Love The Heat
Chick-fil-A
If you're looking to spice up your lunch order, now's your chance. Let's face it: Sometimes, salads just don't cut it. Here's where to get Chick-fil-A's spicy entrees if you're in search of a midday boost.
After receiving requests for bolder flavors, the brand decided to test two new menu options: Spicy Chick-n-Strips and a Grilled Spicy Chicken Deluxe Sandwich. "We've heard from our customers how much they love our current spicy menu offerings, so we're really excited to give them even more spicy flavor options to enjoy," Kanika Patrick, manager of menu development at Chick-fil-A, said in a statement.
Spicy Chick-n-Strips are hand-breaded, seasoned with an assortment of peppers, and cooked with peanut oil. The Grilled Spicy Chicken Deluxe Sandwich tones things down just a bit while still packing on the flavor. The grilled chicken is marinated with a spicy seasoning and comes topped with Colby-Jack cheese, lettuce, and tomato. If you really want to get adventurous, add the Cilantro Lime Sauce to the mix to send your tastebuds on quite the ride.
As lovely as these offerings sound, there's a catch.
Beginning Oct. 18, hungry customers in Philadelphia, Central Texas, and South Texas are able to try the new Spicy Chick-n-Strips. The Grilled Spicy Deluxe Chicken Sandwich is available in Orlando, St. Louis, and Knoxville. "We hope our guests in the test cities will try the new Spicy Chick-n-Strips and Grilled Spicy Deluxe Chicken Sandwich and let us know what they think," Patrick added. "Their feedback will help us determine whether or not we will roll out the new entrees nationwide in the future."
If you really had your heart set on some spicy goodness but aren't in the available locations, we're sorry to break the devastating news. Chin up — there's a possibility that if customers in select cities love these items (and why wouldn't they?) the spicy menu additions will be headed to stores nationwide. Keep the faith, baby.
Not in one of the test cities? No problem.
Spicy chicken options are having a moment in the fast food world. Rivalries are alive and well in the industry, especially when it comes to chicken selections. When McDonald's decided to reintroduce its Buttermilk Crispy Chicken Tenders, things got heated at Wendy's, which quickly followed its "frenemy's" footsteps with its own version of the order. How's that for one-upping your "BFF" fast-food chain?
"We decided to raise the bar because customers deserve better-tasting and quality chicken," Kurt Kane, Wendy's chief concept and marketing officer said in a statement, according to The Daily Meal. "After two years of perfecting our new Chicken Tenders [...] we knew we had a winner."
To add to the excitement, the restaurant began serving its own special sauce to accompany the 100 percent all-white meat chicken breasts. It's as tasty as it is S'Awesome. "The signature side of S'Awesome sauce adds a deliciously different taste to the classic handheld snack, combining tangy, sweet, and smoky into a one savory flavor," according to a press release obtained by Elite Daily.
Even though you might not be able to try Chick-fil-A's new menu items just yet, you can satisfy your chicken cravings at other fast-food chains. The restaurant did say that demand for these bold flavors is especially popular among millennials. Are chicken tenders going to be the avocados of the fast-food world? If that turns out to be the case, you're going to be in for quite the lunch run. Happy munching, dear readers. Don't get too overwhelmed by the heat.
Check out the entire Gen Why series and other videos on Facebook and the Bustle app across Apple TV, Roku, and Amazon Fire TV.