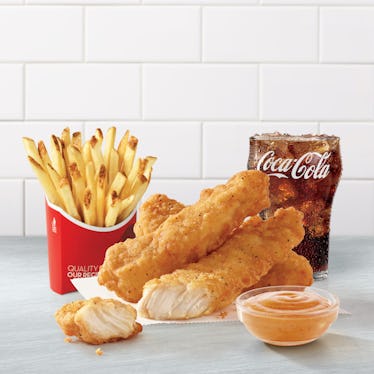 Wendy's Fires Back At McDonald's With Chicken Tenders And People Are Really Loving Them
Wendy's
Rivalries are alive in well in the world of fast food. When McDonald's decided to reintroduce its Buttermilk Crispy Chicken Tenders, things got heated at Wendy's, which quickly followed its "frenemy's" footsteps with its own version of the order. So, are Wendy's Chicken Tenders good? Here's the scoop.
The restaurant wanted to take things to the next level with its limited-time menu item. "We decided to raise the bar because customers deserve better-tasting and quality chicken," Wendy's chief concept and marketing office Kurt Kane said in a statement, according to The Daily Meal. "After two years of perfecting our new Chicken Tenders [...] we knew we had a winner. The only thing left to do was provide these tenders at a price point customers would love."
To add to the excitement, the restaurant began serving its own special sauce to accompany the 100 percent all-white meat chicken breasts. It's as tasty as it is S'Awesome. "The signature side of S'Awesome sauce adds a deliciously different taste to the classic handheld snack, combining tangy, sweet, and smoky into a one savory flavor," according to a press release obtained by Elite Daily.
Well, say no more. This news was enough to get hungry customers nationwide in the drive-thru line, ready for some crispy and savory goodness. Yes, a side of S'awesome is required (OK, it's not actually required, but why miss out?).
People took to Twitter to share their love for Wendy's Chicken Tenders.
Dare I say: People are... lovin' it (sorry McDonald's).
Others, however, are staying loyal to Ronald McDonald.
If you're really feeling adventurous on your lunch hour, you're in luck. For $5, you can snag three chicken tenders, an order of fries, and a small drink. The price is right and the taste is even better. No need to thank me for spreading the news.
We can't forget about the chicken masterminds working their magic at McDonald's, though. When the beloved Chicken Selects were removed from the menu, needless to say, everyone was majorly bummed, so it's pretty exciting to learn that McDonald's Buttermilk Crispy Chicken Tenders are back (provided you're team Mickey D's and not Wendy's). It was a big to-do for some.
Check out what people had to say about McDonald's Chicken Tenders on Twitter.
It sounds like it's going to be a pretty tight race, huh? No one messes around when it comes to food, especially chicken tenders. Customers are certainly in for a treat.
But let's say you're not so inclined to order meat. Fair enough, but fast food chains don't always have a ton of vegetarian or vegan options available. Now however, Wendy's faux BFF is changing the green game. McDonald's new McVegan burger — complete with lettuce, tomato, onion, pickles, ketchup, mustard, and yes, a vegan patty — has hit the scene and provided another go-to for those with a limited menu.
However, there's a catch (sadly). It turns out, the McVegan is only available in a select McDonald's location in Tampere, Finland — and to make matters even more difficult, you can only get the sandwich for a limited time. It's a bit of a bummer, but think positively: Perhaps it'll be such a hit that there won't be any choice but for the sammie to head to the States.
Regardless of what these two fast food chains have up their sleeves next, it's clear people are going to make quite a fuss over the chicken items for some time. Happy munching.
Check out the entire Gen Why series and other videos on Facebook and the Bustle app across Apple TV, Roku, and Amazon Fire TV.