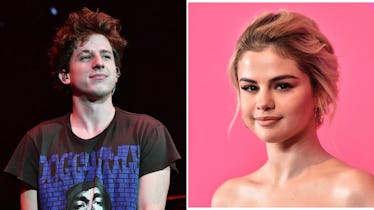 Charlie Puth Low-Key Admitted He Dated Selena Gomez When She Liked Justin Bieber – UPDATE
Gustavo Caballero / Getty & Frazer Harrison / Getty
Well, well, well. What do we have here? It looks like another plot twist in the saga that is Selena Gomez's romantic life. We've been following the Jelena story for years and just fully wrapped our minds around her whole Weeknd relationship from last year. Now, a new man is popping up saying, "Hey, wait a minute. I was there, too!" Charlie Puth and Selena Gomez's secret relationship apparently really screwed with the "How Long" singer, and we had no idea it was even happening.
UPDATE: According to a source from People, Selena Gomez reportedly "never dated" Charlie Puth. Elite Daily has reached out to Gomez and Puth's teams for comment.
EARLIER: Back in 2016, Puth and Gomez collaborated on the hit "We Don't Talk Anymore." It's a great dance track with a fun beat and catchy chorus. Easily, it could have come and gone. However, for Puth, their collaboration sparked something more. Puth is on the cover of February's edition of Billboard magazine and gave an intimate interview detailing the ins-and-outs of his brief romance with Gomez.
Puth explains that "everything he didn't want to happen" to him as a young artist in the music industry, did. He said,
...Typical things you hear about a young kid getting signed in the music industry – happened to me. I was being told to do this, this and this. I didn't want to do any of it, and I was just going along with the punches.
Getting a broken heart wasn't one of the things he wanted to happen, apparently. Puth was pretty passive when speaking about his fling with Gomez, but it's easy to read between the lines. He talked about how a certain someone (cough Selena cough) was busy hanging out with him, but wanted "attention" from someone else (cough Bieber cough).
Puth talked to Billboard about creating "We Don't Talk Anymore" and where the inspiration came from. He said, "It's about a particular moment in my life, when someone very close to me wanted the attention of somebody else." He added,
When I found that out and we ended it, I might have done some shady things too, and she might have asked me, 'How long has this been going on?'
Do you guys get it? "Attention"? "How long"? Those just happen to be the titles of his other two big songs. OBVIOUSLY, READER.
He continued,
I don't kiss and tell, but the only way a song like that can come across as real is if there's something else going on behind the scenes. And that's what was happening [with Gomez]. Very short-lived, very small, but very impactful. And it really messed me up. I'm trying to put this the best way possible: It wasn't like I was the only person on her mind. And I think I knew that going in – what I was getting myself into.
You guys, PLEASE watch this performance where Puth just straight up stares at Gomez the entire time. It's like the greatest love story played out in a three-minute song.
Dude, the kid obviously had it bad.
For being so young, Puth obviously has serious emotional depth. He told Billboard,
You gather up a bunch of emotion with the life shovel, throw it in the life bucket, mix it up. And she evoked such good emotion on that song, it was a pleasure working with her. That's why I'm always happy to sing it, even though it came from a dark point in my life.
Charlie, my man. I've developed a 7.5 crush on the 10 point crush scale since reading this interview. You're going to be alright!
Call me or whatever, whatever, whatever.
Check out the entire Gen Why series and other videos on Facebook and the Bustle app across Apple TV, Roku, and Amazon Fire TV.