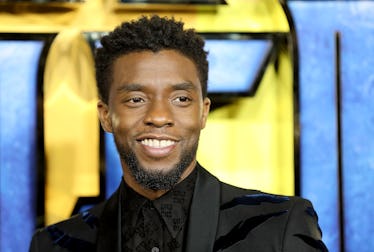 Chadwick Boseman's Net Worth Will Only Rise With The Success Of 'Black Panther'
Tim P. Whitby/Getty Images Entertainment/Getty Images
Since its premiere on Feb. 16, Black Panther has been shattering box office records and hauling in a serious amount of money thanks to director Ryan Coogler and star Chadwick Boseman. We were first introduced to Boseman's Black Panther in Captain America: Civil War, but with the release of the standalone film, Boseman is becoming a household name, with serious cash to boot. With the mega-success of Black Panther, Chadwick Boseman's net worth is set to rise dramatically, likely making him one of the highest paid African-American actors in Hollywood.
According to Earn the Necklace, Boseman's current net worth sits somewhere around $5 million. This sum comes primarily from the actor's work in Captain America: Civil War, his portrayal of Jackie Robinson in 42, and his supporting role in the action movie Gods of Egypt. Apart from these larger films, Boseman is also known for his roles in the ABC Family (RIP) drama Lincoln Heights, small parts in shows like Castle and Fringe, and the recent Thurgood Marshall biopic Marshall. While Boseman played Marshall's titular character, the film was generally considered a box office flop, bringing in only around $10 million domestically, per Box Office Mojo. This is peanuts compared to Captain America: Civil War's $408 million domestic gross.
Boseman's $5 million net worth will likely increase rapidly following the success of Black Panther, especially because Boseman has signed on to appear in three additional Marvel films as the Wakandan superhero. According to The Richest, Marvel has a complicated pay scale where actors' salaries increase based on how many films they appear in. In addition to the up-front salary, actors can also make back-end deals that guarantee them a very small percentage of the film's overall profits. Boseman reportedly made $700,000 overall for his first Black Panther appearance, and The Richest estimates that he will receive at least $500,000 up front for Black Panther, plus a percentage on the back end. As of Feb. 26, Black Panther has made just over $400 million, so if Boseman has a 0.1 percent back-end deal (a standard percentage for a Marvel actor), he would make $400,000. That's after just two weeks in theaters, so imagine what Boseman's total gross will be after two months.
Boseman's rapid increase in net worth puts him in a great place financially, but he still has some work to do if he wants to join the ranks of Hollywood's richest black actors. According to Celebrity Net Worth, six-time Oscar nominee Denzel Washington has a net worth of $140 million, and America's treasure Morgan Freeman has a net worth of $150 million. Of course, these men have been working in the business for much longer than Boseman, so the Black Panther actor shouldn't get too discouraged.
In the meantime, the 41-year-old actor (yeah, you read that right) has plenty of projects to keep him busy. Boseman just wrapped filming on The Avengers: Infinity War, a Marvel installment in which the Guardians of the Galaxy and the Avengers finally team up, premiering May 4. He's also currently filming Avengers: Infinity War Part 2, which will continue the events of the first Infinity War film. The sequel is set to hit theaters on May 3, 2019, so if you really love Boseman's performance in the first movie, you'll only have 366 days to wait until the second. Plus, while Marvel has yet to confirm a Black Panther sequel, there are a few clues in the first film that provide conflict for future movies to build on, including those can't-miss post-credit scenes.
It's Chadwick Boseman's world, and we're just living in it.