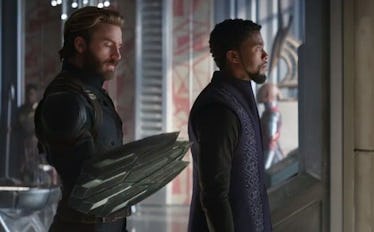 The 'Avengers: Infinity War' Trailer Premieres Much Later Than Marvel Fans Expected
Marvel
Black Panther just had Marvel's biggest opening weekend ever for a standalone film, and the best opening of all time since the original crossover film, The Avengers, arrived back in 2012. With many eyeballs glued to the screen, people assumed we'd see the newest trailer for Marvel's *next* big release, Avengers: Infinity War at the start of Black Panther. Yet, the trailer playing across America this weekend was the one from November. When does the next Avengers: Infinity War trailer premiere? Why didn't it come this weekend with Black Panther?
One reason the new trailer for Avengers: Infinity War didn't come along with Black Panther on opening weekend? Audience reactions. If, somehow, the hype surrounding Black Panther had collapsed, and it had not managed to perform to expectations, the Avengers: Infinity War trailer would be cut to emphasis earlier, more successful Marvel characters.
But considering the landslide victory at the box office, chances are the cut of the trailer will now be one emphasizing Wakanda, and new favorites like Shuri, as well as T'Challa and Okoye.
This is par for the course for Marvel. The above trailer is actually the second cut. The first played at San Diego Comic-Con four months previous and featured the Guardians of the Galaxy 2 characters more heavily, and a far more humorous tone, leading up to Thor: Ragnarok. Post Ragnarok, with Black Panther and a more dramatic tone to come, this trailer shows scenes set in Wakanda and relegates the humor (and the Guardians) to the trailer bumper.
Since then we've had one short 30-second spot during the Super Bowl which was more even-handed. It made sure to highlight all the different characters, as office prognosticators were pegging Black Panther to merely do "better than average" at the box office, with a $100 million opening four day weekend, instead of the $242 it wound up doing.
How long will it take Marvel to cut its new Avengers trailer in light of the box office never setting on the Wakandan Empire this past weekend? Most likely a week or so. Which is why the news three of Infinity War's stars, Paul Bettany (Vision), Karen Gillan (Nebula), and Sebastian Stan (Bucky) heading to Good Morning America on Tuesday, Feb. 27 sounded like an all-but-confirmation the trailer will come too. The Olympics will be done, Black Panther's box office boom will most likely be finishing just ahead of A Wrinkle In Time's release, and Disney likes dropping their trailers on ABC's GMA for synergy purposes since they own this broadcast network.
But word is the trailer will not be coming on GMA. According to Marvel Studio News, they reached out for comment and were told the following:
The Walt Disney Studios has informed us that there will not be a new trailer for Avengers: Infinity War on Tuesday, February 27, when three members of the cast appear on Good Morning America. That does not mean, however, there won't be any new footage.
So chances are we'll be getting a clip from the film, and maybe some more footage promoting Marvel Studios' 10th-anniversary celebration, but not a full-length two-and-a-half minute trailer to dissect. So when?
Some think the A Wrinkle In Time film is the answer. This is Disney's other major release before Avengers: Infinity War, and it's marketed towards the same demographics as Black Panther, including women and people of color, with stars like Oprah Winfrey, Mindy Kaling, and Storm Reid, as well as being directed by Ava Duvernay. Putting out the trailer the same week as the film's arrival in theaters would put in in front of many eyeballs on Wrinkle's opening weekend and would once again bring synergy between Disney productions.
We'll have to see what happens come March. Until then we have a possible Infinity War clip coming on Good Morning America on Tuesday, Feb. 27, 2018; A Wrinkle In Time opens Friday, March 9, 2018; and Avengers: Infinity War arrives in theaters on Friday, May 4, 2018.