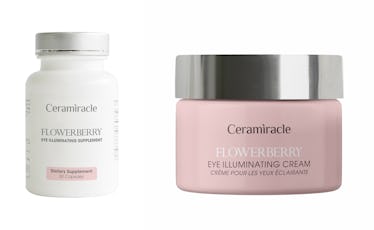 This Flower-Powered Supplement Fights Dark Circles & Protects Your Eyeballs Against Your Phone
Ceramiracle
Have you ever been staring at your phone or computer for so long that your actual eyeballs start to ache? Or go spotty? Or just feel straight up exhausted? Ceramiracle's Flowerberry Eye Illuminating Supplement and Eye Illuminating Cream might be here to help. As described by the brand in a press release, "the Flowerberry line is a two-prong solution created to remedy tired, lackluster eyes." If your job requires a computer or you use an iPhone, this probably applies to you. My feeling is that we subject our eyes to so much unnatural screen use and that they definitely deserve a little boost — why not give this a shot?
Ceramiracle is a California-based nutricosmetics brand founded by Eugene He that's already experienced monumental success in Asia. All of its ingredients are formulated without harmful ingredients such as phthalates, mineral oil, parabens, and more, and they are 100 percent cruelty-free. "Every Ceramiracle product contains a story that is close to my heart and was originally developed to help those around me," He writes on the brand's website.
Cue the Flowerberry line, which just dropped Thursday and has a very personal and endearing backstory. "Flowerberry complex features three Chinese herbs that I literally grew up with/on," He explains in a press release. "I created the formula five years ago for my elderly patients with eye complaints and achieved such great results that I felt it had the potential to work beautifully in a skincare product. I've incorporated the ingredients in both an ingestible supplement and an eye cream to fully maximize its potential."
In other words, the line is a super natural way to help boost your eye health and also improve the health of the skin around your eyes. Is this not the most comprehensive and interesting eye care system you've ever heard of? Now, onto the nitty gritty.
The Eye Illuminating Supplement ($55, Ceramiracle.com) is the half of the duo that I find the most appealing. Thinking about how much time I spend looking at a screen and therefore damaging my precious eyeballs makes me very, very sad, so I want to help them out any way that I can. Carrots are great, but they don't pack the robust formula that this supplement does. A mixture of chrysanthemum flowers, wolfberry, kale powder and schisandra berry help counteract dark circled under the eyes, while clinically proven lutein helps filter out and protect eyes from damaging blue light from digital devices. Pretty amazing, right? I've had panda eyes for as long as I can remember, so this just might be an epic two-in-one product for me.
Next up is the Eye Illuminating Cream ($59, Ceramiracle.com), which is a topical product that targets puffiness and under eye darkness. It's formulated with skin benefiting botanicals and marine extracts that work harmoniously to de-puff and hydrate. And of course, the blend of chrysanthemum flowers, wolfberry and schisandra berry is also included in this cream.
Dull, tired eyes, begone! Who knew flowers were the key to keeping them bright?