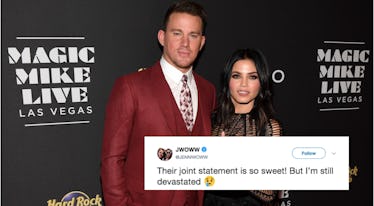 Here's What Celebs Have Tweeted About Channing Tatum & Jenna Dewan's Breakup & Ugh
By now, it's probably safe to assume that everyone and their grandma knows that Channing Tatum and Jenna Dewan are separating. All I can manage to think about is whether or not rewatching Step Up for the umpteenth time would make me feel better or worse about this very tragic situation. As it turns out, we're not the only ones who are distraught — celebrities' tweets about Channing Tatum & Jenna Dewan's breakup prove without a doubt that pretty much everyone agrees these two were everything.
And as with any large-scale tragedy, there were several phases of coping with this troubling news. First, of course, comes the shock. Then, the utter denial. (Def googled "Channing Tatum and Jenna Dewan divorce hoax" more than I'm proud to admit.) Then, finally, reluctant acceptance.
While it might not seem fair that Hollywood continues to promise us happy endings and yet manages to drop the ball at just about every turn, it's important to realize — even when a relationship is on a public platform — that Tatum and Dewan don't owe anything to anyone when it comes to their decision to end their marriage.
And although, their joint statement was a v classy way to go, it's kind of sad that their fame made it impossible for them to separate privately. But it's also great to see that (most) of their peers are being supportive and are equally as bummed as we are.