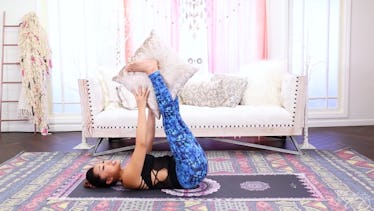 This Fitness Blogger's Pillow Workout Is The Lazy Routine You've Been Looking For
There have been many, many times when I have skipped the gym because my bed was just too damn comfortable to part with. Like, who am I to rudely leave a heavenly, blanket-clad sanctuary that does nothing but provide me with the utmost coziness? If you're like me, and the thought of unraveling your body from your blanket burrito to squeeze in a sweat sesh is borderline appalling, Cassey Ho's pillow ab workout was basically made for you. Lazy girls, unite!
First of all, if you haven't heard of Cassey Ho by now, it's high time you learned a thing or two about this amazing woman. She's the brains (and muscles) behind the popular YouTube fitness channel Blogilates, which just so happens to be the number one female-led exercise channel of its kind on the platform. Her workouts are challenging, but with a bubbly personality and a few corny jokes sprinkled throughout, she talks you through it all with ease. Plus, nearly all of her workouts can be done in the comfort of your own home, which is lit AF.
Ho has officially taken home workouts to the next level with her new pillow-focused routine, which you can literally do without having to leave your bed whatsoever. I mean, a workout mat is definitely recommended, but TBH, it's not necessary, and I am so here for that. Having said that, all you'll actually need is your body, and your favorite pillow.
Now, while the moves might look like you're not doing all that much, trust me when I say this workout will kick your ass.
The Blogilates instructor transitions between butt-burning glute bridges, ab-focused core moves, an exercise she likes to call the "thigh master," and more. TBH, she makes it all look incredibly easy (for real though, she's casually conversing with her viewers throughout the whole video), but my muscles are shaking just thinking about it — especially with that intimidating thigh exercise name, amirite?
Believe it or not, Ho's not the only brilliant human who decided to merge fitness and common household items. Shape, for example, created a kickass at-home workout that takes some killer pillow moves to the next level by adding other random objects into the mix, like a skateboard and a magazine. I never thought that casually turning the pages of a magazine could be so freaking demanding, but I now must admit that I stand corrected.
If you think that making #gains with your fuzziest pillow is reserved solely for the laziest of days, think again.
Back in 2011, ESPN revealed that an athlete-approved secret for keeping up with a workout routine on the road is to grab a trusty ol' hotel pillow and exercise with it. Jay Cardiello, the former strength and conditioning coach for the NFL's Tampa Bay Buccaneers and baseball's Cincinnati Reds, told ESPN that pillows are the perfect prop for "lower-body strengthening" and "core-stability work" when your options are limited. It seems like the major leagues and Blogilates have united and come to a rather cozy agreement, no?
Let's be real: With blizzard season quickly approaching, you're likely to find yourself bailing, at least occasionally, on some of your more ambitious fitness new year's resolutions (trudging to the gym in the snow is just not a good time). But with workouts as convenient as this, there's no excuse to be lazy because, well, what's lazier than working out with a pillow?
And hey, look at it this way: When you're done with your workout, you can easily transition into a glorious nap. If that doesn't motivate you, then I don't know what will.