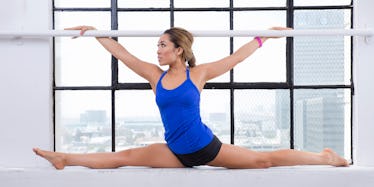 Cassey Ho Gets Real On Why A "Six-Pack" Shouldn't Be Part Of Your Fitness Goals
Cassey Ho
I knew Cassey Ho and I would get along from the first moment I clicked onto her popular fitness blog, "Blogilates."
At the time, her most recent post on the site was titled, "Why I'm no longer ashamed of crying." In case you guys didn't know, I essentially wrote on the exact same subject just a couple months ago.
So when Ho and I finally met in person, I mentioned our mutual appreciation for a good cry, and she enthusiastically told me it was nice to meet "a fellow crier."
That's the thing about Cassey Ho; despite being a wildly successful female entrepreneur who boasts four incredible, internationally known brands, she's still an unbelievably down-to-earth woman.
Or, As She Might Put It, She's A "Shero"
Ho defines the empowering word:
A 'shero' is someone who's willing to take risks and fight for what they believe in, even in the face of adversity. A 'shero' is someone who isn't afraid to stand alone.
Though she's spent the last several years building an amazing fitness brand through YouTube and social media, Ho's next project will tackle something slightly different.
On June 21, the 30-year-old fitness guru will officially launch The Sheroic Podcast.
Alongside fellow female entrepreneur Lisa Bilyeu, Ho tells Elite Daily she plans to tackle a wide range of topics in the podcast, from body image, to business, to relationships, and anything and everything women want to learn about.
And, For Real, Women Should Listen To Cassey Ho
Another of her recent blog posts went into detail about what she refers to as her "soft" body, and why it's perfectly natural for her body to look this way.
Ho tells Elite Daily,
No matter what your body actually looks like, it's how strong you are that really matters. And sometimes, what you think is healthy, like having a six-pack, you don't know what means that person took to get there. It may look healthy, but is it really?
The viral YouTuber explained that, at one point, while she was in the midst of training for a bikini competition, she may have looked "healthy" on the outside, but on the inside, she felt far from it.
She says,
People told me I looked so good, but the truth was, my cognitive ability wasn't as sharp as it normally is. It was very difficult for me to run my business. I lost myself during that time. But now, having a softer body, while still strong, I can hangout with friends, eat food that I love, and I just feel balanced and like I'm in harmony with my body.
At the end of the day, Ho says women shouldn't scrutinize their bodies for "six-pack" definition, or obsess over arbitrary numbers on a scale.
Instead, she implores women to ask themselves, "Am I giving my gift to the world and doing what I want to be doing? Am I fulfilling my purpose in this world?"
You are so much more than your body. You are, as Cassey Ho would say, a "shero."