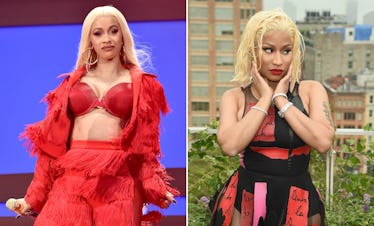 Cardi B's Rumored Nicki Minaj Diss Track Is Reportedly So Brutal, Her Team Wants Lyrics Cut
Theo Wargo & Dimitrios Kambouris/Getty Images Entertainment/Getty Images
The drama apparently continues between rap goddesses Cardi B and Nicki Minaj. After an altercation broke out between the two women at New York Fashion Week, fans are waiting to see what they do next. According to reports, Cardi B has at least one major diss track in the works, but even her team isn't sure if they can get on board with how hardcore it is. Cardi B's rumored Nicki Minaj diss track is reportedly so brutal, her team is debating cutting some of the lyrics out. If you're a sheltered fangirl like me, you might already think some of Cardi's lyrics are intense as is without the added celebrity feud. Can you imagine what kind of content is making her own team go, "Um, maybe not?" Elite Daily reached out to Cardi B's team for further comment on the reported diss track but did not hear back by the time of publication.
Ever since Cardi B came onto the scene there's been some passive-aggressive energy between her and Minaj. Their beef seemingly came to a head at a party during 2018's New York Fashion Week and ended with Cardi B reportedly throwing a shoe at Minaj. She also accused Minaj of slandering her as a mother and talking about her daughter, Kulture Kiari Cephus, born earlier this year. Cardi B jumped on Instagram after the reported fight and posted a message explaining, "....when you mention my child, you choose to like comments about me as a mother, make comments about my abilities to take care of my daughter is when all bets are f*ckin off!!"
Elite Daily reached out to Cardi B's team previously for further comment on these accusations but did not hear back but did not hear back by the time of publication.
In the days following the NYFW altercation, Minaj hopped onto her Queen radio show to talk about what went down. On Monday, Sept. 10, Minaj said she was "mortified," adding, "[I] would never talk about anyone's child or parenting. I don't care about anyone's parenting. I am not a clown, that's clown sh*t."
Now, TMZ reports Cardi B's team is stuck trying to decide what to do with her new music. Sources told the outlet Cardi has already recorded new material and the lyrics are packed with Minaj references. TMZ reports half of Cardi's team has the "all press is good press" mentality, apparently thinking it will work as positive PR for Minaj, too. Other people in her camp say Cardi B should just move on already and let the drama die. (Ok, maybe they didn't word it like that exactly, but the sentiment rings through.)
According to TMZ, Cardi B wants to keep the track as is because she's "always included her real-life drama in her raps" and keeping the Minaj lyrics in is "the only way to keep it real." Honestly? I get that. As of now, there is no reported date or timeline for when fans can expect Cardi B's new music to come out, but either way, she has my attention.
So, maybe mission accomplished?