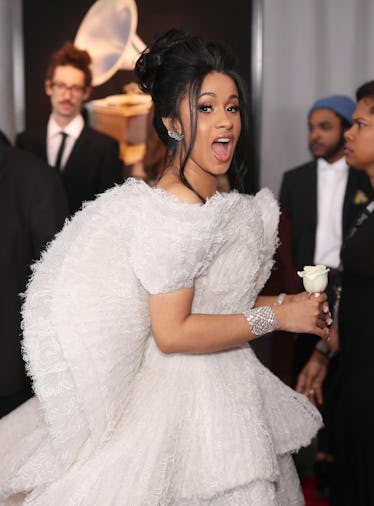 Cardi B's Grammy Dress Makes Her Look Like An Angel With Killer Nails
Christopher Polk/Getty Images Entertainment/Getty Images
I'm obsessed with award shows. Between the red carpet and what goes down during the actual show, I'm totally locked in. This year though, there's nothing I was more excited to see than Cardi B's Grammy 2018 look. Seriously, the girl was dripping in finesse!
I don't remember when I first discovered Cardi B, but it was definitely long before "Bodak Yellow" became a smash hit. Hearing her story, finding out where she came from, and seeing how hard she's worked is going to make it that much more amazing to see her perform at the Grammys. While most counted her out, or didn't give her the props she deserved, she's worked so hard to have her moment on one of the most important stages in the music industry.
Not only was Cardi slated to perform, but she was also nominated for Best Rap Performance and Best Rap Song (both for "Bodak Yellow"). Although I'm a huge music fan (and of course watch the Grammys to see musicians do their thing), what I'm really locked in to see is the Red Carpet. Music is Cardi's forte, but she's been killing it when it comes to fashion. I love that she isn't afraid to mix high-end designer pieces with affordable designs.
This year, Cardi's look did not disappoint.
Cardi B graced the red carpet wearing an Ashi Studio Fall 2017/2018 white dress, which made her look like such an angel. She also wore Messika diamonds and Christian Louboutin heels. Also, her lashes are so major. If you want to snag a pair, they're Kiss Lashes.
Her nails were out of this world. Although I could never pull off super-long nails, Cardi B kills it. They're such an homage to her New York roots. Designed by Jenny Bui aka @nailson7th, the long white look with embellishment was the exact amount of flair she needed to round out this outfit.
In addition to killing the red carpet, Cardi's performance with Bruno Mars was also a hit. I may be biased but I love everything '90s and her performance gave me total Fresh Prince Vibes.
Her performance outfit was a custom Moschino and Cross Colour LA look. Like hello, to die for! Cardi B was a total winner in my eyes this Grammys.
"It means a lot," Cardi B says of her Grammy nods. "It just makes you forget every bad thing or every little bullsh*t that you go through in the industry or every little comment that people try to put you down, and it's just like it doesn't matter because it's like, I'm in the Grammys."
All Grammys weekend long Cardi has been killing it. First, she hit the Warner Music Group stage to perform in a Alessandra Rich AW17 black velvet underwear set, RTA robe, and Poise Desing X Ashi Studio limited edition custom made "CARDI" velvet thigh highs. My favorite part of this look though was her standout necklace by Dylan Lex. It just brings the whole look together.
For the actual Warner Music Group Pre Grammys Party she went a bit more understated, but I'm digging the effortless look. She wore a Carolina Herrera dress with a pair of Sophia Webster heels. What I love about Cardi B and her stylist Kollin Carter is that they refuse to let Cardi be put in a box. Although her lyrics stay true to her New York City roots, that doesn't mean she can't wear one of the most elegant designers in the industry. I personally would have loved to have seen the look pulled together with an over the top belt, but Carter and Cardi saved all of the drama for the Clive Davis Grammy Party.
This has to be one of my favorite looks on her. The Sophia Webster heels are killer. I mean come on, look at that embellishment paired with the slinky strapped heel. Her dress though is what I can't get over. Gracing the Clive Davis Awards, Cardi is wearing an Ashi Studio RTW SS18 dress. The detailing is so subtle, but that's what I love! From the neckline to the split and the tuxedo style top, don't put Cardi (baby) in a corner for sure. To round off the look she shined in Sutra Jewels.
After her first Grammys appearance I'd don't know how Cardi B will top this, but if her hustler mentality showcases anything, the world is going to be seeing her on many red carpets for the foreseeable future.