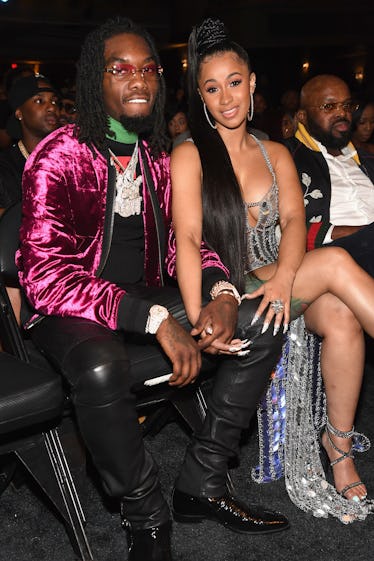 Watch Cardi B Have The Cutest Reaction To Her Fiancé Offset Rapping About Her
Paras Griffin/Getty Images Entertainment/Getty Images
Cardi B stepped up on Periscope earlier in the week in order to defend her fiancé, Migos rapper Offset, after he was accused of rapping a homophobic slur in the YFN Lucci song "Boss Life." Now, a different set of lyrics are causing the "Bodack Yellow" singer to speak out — or sing out, rather — because the lyrics about Cardi B on Migos' new album Culture II have her pumped enough to lip sync along.
Check out the chorus of the song "Beast":
She a lil, she a lil beast/She a lil beast (beast)/She a lil, she a lil beast (beastie)/She a lil beast (beast)/She a lil, she a lil beast (beast)/She a lil beast/Love to walk around on fleek/I call that CC/She a lil, she a lil beast
Offset raps a lot more about his girl in the second verse of the song, with lyrics like, "Offset, shawty on fleek, Bartier Cardi put the Wraith on me, when I see the Patek on her arm, got weak." Feel free to go check out the rest of the lyrics for yourself here. But explicit or not, Cardi was apparently so excited about being name-checked in the song that she took to her Instagram feed to show her support with a video of herself rapping along to the lyrics.
Get it, girl!
Cardi clearly has no problem with the NSFW lyrics, and TBH, I love the way she always seems to have Offset's back. Take last week, when he got dragged on social media for that questionable "Boss Life" verse: "Pinky ring crystal clear, 40k spent on a private Lear/60k solitaire/I cannot vibe with queer."
The rapper quickly apologized on his Instagram, with a post that featured an alternative definition of the word "queer," along with the following caption:
I didn't write the line about gay people. I have said before since these issues before that I got love for all people. My passion for fashion has lead me to a lot of gay people around me who I have mad respect for and we are very cool so I'm not in a place where I'm hating like that. When I wrote that I was thinking of words that could rhyme with the others (here, lear, solitaire, bear) and I saw this definition about her having a queer feeling she was being watched and it fit what I was thinking about a stalker creepy paparazzi situation. To me that "queer" I don't mean someone who's gay. I mean lame people who film you, post it and stalk you. Lingo that means strange or odd. I M S O R R Y, I A P O L O G I Z E, I'm offended I offended anybody
A few days later, Cardi B hit up Periscope to give us all her own view on the whole debacle.
"I'm not going to let somebody call him 'homophobic' when I know that he's not," she said. "And I'm saying this because I seen him around gays, and he treats them with the same respect he treats everybody."
Cardi then explained that when she asked Offset why he used the word "queer," he told her he didn't even know the word was considered a homophobic slur. "Now, that's a word that you guys say that it's a bad word for gays — I never even heard that word in the first place," she said. "Why don't y'all educate people about it? A lot of people are not aware about what's wrong or right in the LGBT community. Why don't we do things to educate instead of bashing and trying to label something that they not?"
Good question, Cardi!
Meanwhile, despite the current backlash, Migos is having a pretty amazing year, thanks to their chart-topping hit single "Bad and Boujee," which is up for Best Rap Performance at the 2018 Grammy Awards. Culture is also nominated for Best Rap Album, though the trio of rappers — Offset, Quavo, and Takeoff — face some stiff competition in that category. JAY-Z is also nominated for 4:44, as is Kendrick Lamar for DAMN., Rapsody for Laila's Wisdom, and Tyler The Creator for Flower Boy.
Tune into the 60th Annual Grammy Awards on CBS on Sunday, Jan. 28 at 7:30 p.m. ET to see how it all plays out.