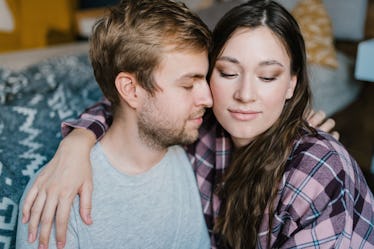 Here's Why Your Partner's Values Are Hard To Change, Experts Say
When you imagine the list of essential traits someone needs to have in order to be your partner, there are probably a few personal values right at the top. Whether it's honesty, faithfulness, or even the way they approach their finances, these are your deal-breakers. All of this makes perfect sense in theory, but sometimes, in real life, it gets a bit more complicated — particularly when you fall for someone who doesn't check all those shared value boxes. In that case, the question becomes: Can your partner's values change? Or is this something you will either need to accept, or otherwise end the relationship over?
I reached out to experts for their advice on whether you can actually do anything about not having shared values with your partner. But first thing's first: What exactly are values? According to relationship coach Brenda Della Casa, they are the core of your beliefs. "Values are principals and the standards by which you set your moral compass. Your standards, beliefs and ideas are born from your values. Essentially, this is the foundation of your character," she tells Elite Daily.
LeslieBeth Wish, Ed. D MSS, noted psychotherapist and author of Training Your Love Intuition, adds that values encompass your beliefs about "honesty, respect for others, views of life and its meaning, religion and politics," as she explains to Elite Daily. "These positions are a product of life events and a person's reactions to their upbringing."
With values being so essential to your identify and formed over a lifetime, are they really even something you can change? Moreover, should they be something you feel you can change? Here's what the experts say.