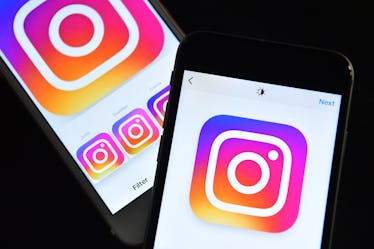 Instagram's Focus Feature Lets You Record Professional-Looking Vids & I'm Pumped
Carl Court/Getty Images News/Getty Images
Lately, Instagram has been totally nailing it with their Story updates. The app is now allowing users to add GIFs and @mention Stickers to their Stories, and recently, they introduced Instagram Focus. The feature substantially ups everyone's selfie game (and everything is right in the world when good selfies are possible). If you happen to love the latest portrait-like Story feature, you may be wondering if you can record videos on Instagram Focus. Well, I did an in-depth investigation, and I now have all the answers.
After a little experimentation, I found that it is possible to take a video in Focus. To do so, first navigate to the Focus feature through Instagram's Story camera. When you get there, simply hold down the record button for the duration of your video, as opposed to just tapping it for a photo. Release the button when you're ready to do so, and you'll have a video with one or more super crisp faces along with a slightly blurred background. Proceed to save it, set it as your Story, or just send it to a select few lucky friends. Don't be shy — the camera loves you.
In case you aren't familiar with Instagram Focus, it's an in-app feature that lets users take and post portrait-like photos to their Stories. It's currently available in the latest version of the app for the iPhone SE, 6S, 6S+, 7, 7+, 8, 8+, and X, as well as some Android devices. It's beyond amazing, and if you haven't already taken a thousand selfies with it, you should. I won't lie, my Story game is so fire now.
To take a photo in Instagram Focus, simply navigate to the Instagram Story feature titled "Focus," which you can find next to "Superzoom." When you get there, let the camera find one or more faces to focus on, and it'll blur out everything else in the background. Click the button to snap a photo, and you'll have a professional-looking portrait of yourself. You can save it by hitting the "down" arrow in the bottom left corner of your screen (you should totally save it, because it's freaking gorgeous). Afterwards, you can send it to friends directly or post it to your Story by hitting the "plus" sign. Honestly, post them publicly for the world to see; everyone needs a little more beauty in their lives.
There's a slight chance you don't have the Focus feature yet, and if that's the case, don't freak out. First, make sure your Instagram app is completely updated. If it isn't, you might not have the feature yet. Just update it in your device's app store, and that should fix the problem. If that isn't the case, make sure your phone is one of the many devices that are compatible with the feature. If your app is totally updated and you have one of the many compatible phones, check to ensure you're looking for the "Focus" feature in the right place. Once you do so, you'll be good as gold. Snap away, my friends.
If you couldn't already tell, I am head-over-heels obsessed with Instagram Focus. It's an awesome way to not only take high quality photos, but to also document some extremely crisp video footage. If you haven't already spent hours playing around with it, then what are you doing with your life? It has definitely enhanced my Story game, as well as my selfies. Get ready to not only witness some absolute fantastic self portraits, but also a plethora of high quality videos on my Story. My face is now camera-ready.