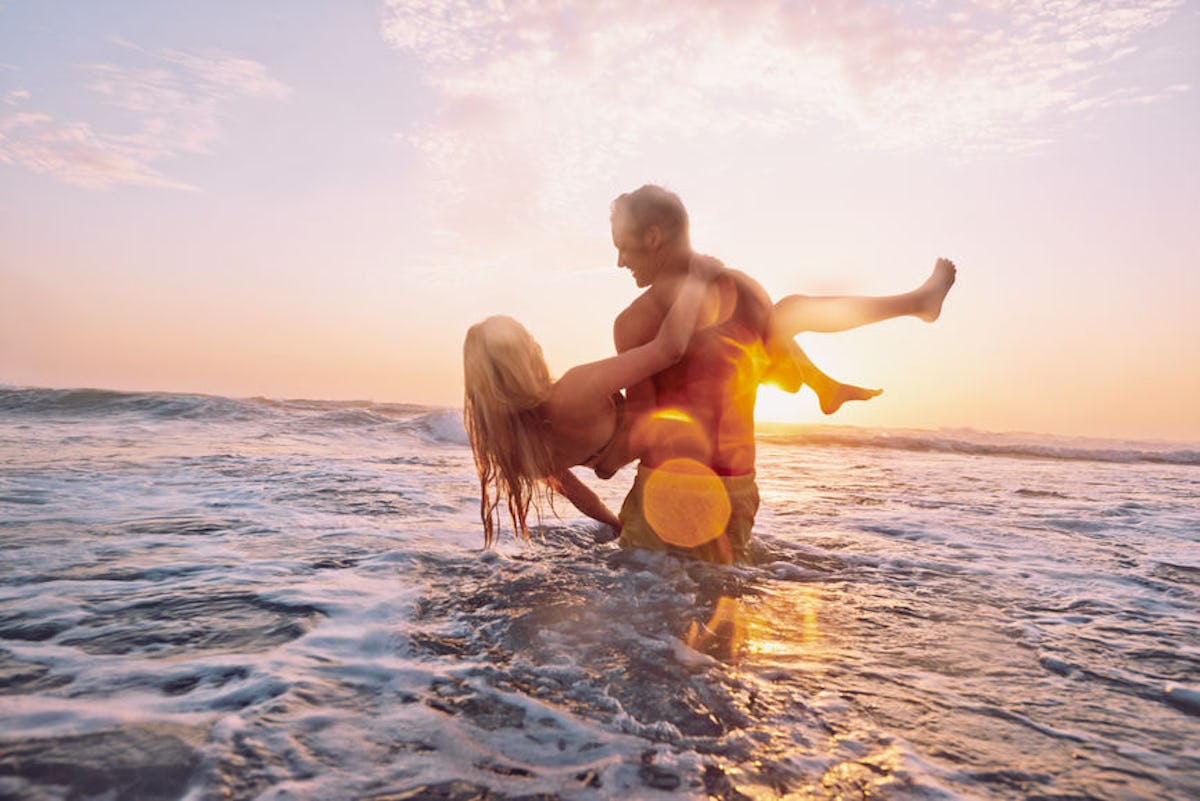 There's No Reason You Need To Limit Yourself To Just One Summer Fling At A Time
Authors like Nicholas Sparks and Sarah Dessen paint summer romances as swoon-worthy, head-over-heels love stories that begin after Memorial Day and end up lasting a lifetime. Happy endings are fine for fictional characters in teen novels, but in reality, summer flings are usually much more about having fun than actually committing to something serious. Can you have more than one summer fling this year? Absolutely.
Dating multiple people at once is perfectly acceptable. You might travel to a different country for vacation, or meet a tourist visiting your city. An old high school flame could very likely return to your hometown for a few weeks or months, looking for some casual fun and nothing more. As long as you're comfortable with it, and you're being honest with your partners (and staying safe when hooking up), there's nothing wrong with keeping your options open.
If you're into the idea of a whirlwind summer flirtation with your local pool's sexy new lifeguard, but you also want to go out for iced coffees with the brooding artist who frequents your favorite café, why shouldn't you have your cake, and your lifeguard, too? You don't have to settle down right this second, so there's no need to stress about making a choice between suitors. Unless you're a princess... but as much as I love a royal wedding, I can pretty confidently assume you're not next in line for any throne.
Honestly, the best part about books like The Last Song or The Truth About Forever is that the female protagonists don't go looking for that life-changing love or eye-opening summer experience. Still, they aren't afraid to take chances on potential love interests, even those who don't fit their usual type. And if you think about it, they don't find their happy ending — not really. It's more like a happy middle. The book has to end at some point, but their stories are far from over.
So when you're dating this summer, keep an open mind. Flirt with someone who you wouldn't normally give a second look. Get up the courage to ask someone out who you think is out of your league. Go on two dates in one day. Get a stranger's phone number. Swipe on dating apps to your heart's content. If casually dating a number of people at the same time is something you're into or want to try, you shouldn't feel any guilt or shame about doing just that.
If casually dating a number of people at the same time is something you're into or want to try, you shouldn't feel any guilt or shame about doing just that.
Of course, you should still be communicating openly with your summer flings. If someone you're seeing asks whether you're dating other people, tell them the truth. There's no real benefit to being sneaky, but if you're dishonest, someone is very likely going to get hurt. If you feel better being up front about the fact that you're only looking for something casual, then you can tell people right off the bat. Chances are, they'll be cool with it.
If you are hooking up, make sure you're being safe. Not only are you getting intimate with multiple partners, but your partners probably are, too. You don't want to catch an STD, and you definitely don't want to unknowingly spread one to other people. It's better to be safe than sorry, so get tested regularly, and use condoms or dental dams in addition to your regular birth control method. Since it is summer, you should also be careful about hooking up in a pool or hot tub or having sex on the beach. Nothing gets in the way of your summer of fun and freedom quite like a yeast infection.
This summer, find your happy middle. Forget the "rules" and give yourself permission to explore more than one romantic option at a time. In the words of Leslie Knope, "you are the most beautiful, glowing sun goddess ever." So shine on.