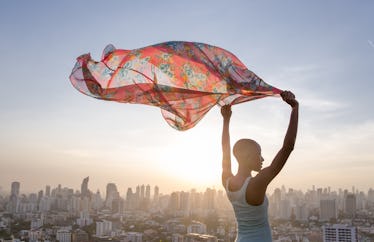 If You're Newly Single & Want To Get Away, These Cities Are Waiting For You
At one point or another, we all feel like taking a break from reality and traveling someplace we've never been before. If you're newly single, a getaway may sound like the most refreshing savior right about now. The cities to travel to in 2018 will allow you to recharge, pick up the pieces, and find your center. Going through a breakup can be really crummy, and if you just want to get away, feeding your wanderlust in any of these cool cities will do the trick.
The all-star quality about traveling is that you don't have to be with a bae or friends to do it. All you need is that passionate wanderlust and your favorite pair of sunnies, and you're ready to hit the road. By stepping outside your comfort zone and heading to a new place, you may discover some new things about yourself as well.
Becoming newly single might have you in a puzzling state of the unknown. You don't entirely know how to pick up where you left off before you were in a relationship. Traveling will guide you to new people and experiences that have the potential to bring out sides of you along the way. So, keep your chin up and pack your bags. Any of these cities are waiting for the newly single chick who's looking to escape for a bit.