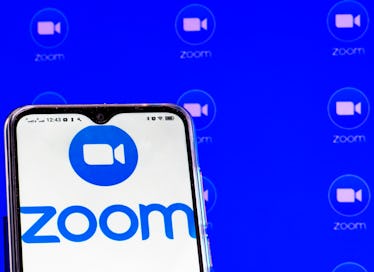 Here's What To Know About Using Zoom Backgrounds On Your Android Phone
SOPA Images/LightRocket/Getty Images
Virtual conferencing platforms like Zoom make it easy to stay tuned into your workplace or classroom no matter where you are. There are even cool features like virtual backgrounds that allow you to spice up your video calls. When you're not a computer, though, you might be wondering if you can change Zoom virtual backgrounds on Android. Here's what you need to know.
If you've signed into a Zoom meeting on your computer, you might've swapped your background to make it look like you were hanging out in space or crossing the Golden Gate Bridge, thanks to the app's virtual background feature. You can also connect on Zoom using your phone — and just because you're not using a desktop doesn't mean you have to give up using Zoom virtual backgrounds. There's a Zoom app for both Android and iOS devices, and as of September 2020, you can use Zoom virtual backgrounds on Android and iOS phones.
If you're wondering how to change your Zoom background on your phone, it's pretty simple. First, make sure you're running Android 8 or higher to utilize the feature. If you haven't updated your Zoom app in a while, you should also check that it's up-to-date (version 5.3.0 or later). From the "Meet & Chat" page, you'll want to tap on "New Meeting" or "Join" to start a meeting. Then, select the "More" option from the bottom-right corner of the menu bar to bring up another menu. Choose "Virtual Background" — the fourth option down the list.
To select a Zoom virtual background on Android, you can choose from one of the pre-loaded options or tap on the plus sign (+) to upload an image. If you're selecting an image from your phone, you can choose from your own photos. You can also find Zoom backgrounds to download by heading to a royalty-free image service like Unsplash, Pixabay, or Pexels, and then follow the same steps to upload it to your Zoom app.
To change your Zoom background on an iPhone, you'll need an iPhone 8 or later with an updated Zoom app. Then, you can change your Zoom background on your phone by going to the bottom right corner, tapping "More" by the three dots, and then choosing "Virtual Background."
There are a slew of fun backdrops you could use during your next Zoom call, so don't be afraid to switch it up. With many options for changing your Zoom background on your phone or computer, it's time to add a personal flair to your next call.
This article was originally published on