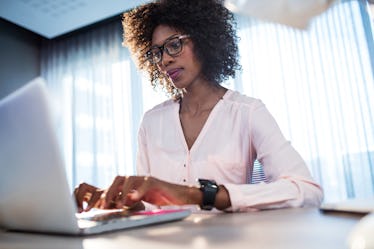 If You're Having Issues With Zoom Backgrounds, Here's What To Check
Step one: Make sure you've updated Zoom.
Shutterstock
Zoom's virtual background feature has become a mainstay on the platform, thanks to its ability to swap out your IRL backdrop for a photo or video of your choosing. If your Zoom virtual background is not working during your video calls and you are wondering why you can't get Zoom backgrounds, there might be a few different culprits to blame. Here's what you should check to pinpoint what's going wrong.
In addition to different operating system requirements for using a virtual background without a green screen, Zoom also has certain tips to help you get the optimal virtual background. It's best to have a solid color backdrop, preferably green, and to not wear clothing that's the same color as the background. You'll also want to use a high quality camera and make sure you're in a setting with uniform lighting and color. Your background image will work best with an aspect ratio of 16:9 and minimum resolution of 1280 by 720 pixels. If you're uploading a MP4 or MOV video, it'll need to have a minimum resolution of 360 pixels and a maximum resolution of 1080 pixels.
Check To Make Sure You've Updated Zoom
First things first, you'll want to make sure your PC or Mac system is running an up-to-date version of the Zoom Desktop Client (4.6 or higher for macOS and 5.2 or higher for Windows) to use a Zoom virtual background without a green screen. You only need version 3.5 for both macOS and Windows to use virtual backgrounds with a physical green screen. If you need to manually update your system, you can tap on your profile picture in your Zoom Desktop Client then select "Check for Updates."
Meanwhile, if you're running Zoom on a mobile device, you'll need to make sure you have Zoom version 5.3 or higher. iOS users will need to be using a iPhone 8 or later, and at least a fifth generation iPad 9.7-inch or iPad Pro, while Android users will need Android 8.0 or higher.
Check Your Device
Another reason you might not be able to use a virtual background without a green screen might be because your device doesn't have a supported processor. The Zoom support page of system requirements contains in-depth information about the system requirements you need to use a virtual background without a green screen. There are different minimum requirements for both Windows and macOS processors, and you can easily check to see if your computer is compatible by unchecking "I have a green screen." If your computer or mobile device doesn't have the capability to do a virtual background without a green screen, it will show you a message that says as much, and you'll need to make sure you have one in order to swap your background for a photo or video.
Double-Check That You Have The Feature Turned On
If you haven't already, you'll need to turn on the Virtual Background effect in your account settings. To do so, you first need to sign into the Zoom web portal. If you're an account member, go to Meeting Settings, but if you're an account administrator, head to My Meeting Settings. From there, select the Meeting tab, head to the Virtual Background option, and toggle the status to turn on the feature. It's important to note that you need to logout of the Zoom Desktop Client and log in to it again for the Virtual Background to work.
Once your effect is turned on, you'll be able to join in on all the background fun. Just sign into your Zoom Desktop Client, click Settings in the top right corner, and select Backgrounds and Filter from the sidebar to the left. If you have a green screen, make sure to check the set-up so that you have selected the correct color of your screen. You can then click on one of Zoom's virtual backgrounds or upload your own image or video by clicking the plus sign. After you've selected the media, your new backdrop will start displaying in your meetings.
Unfortunately, if your computer doesn't support virtual backgrounds without a green screen, you'll need to use a green screen or plain green backdrop to have the best results.
This article was originally published on