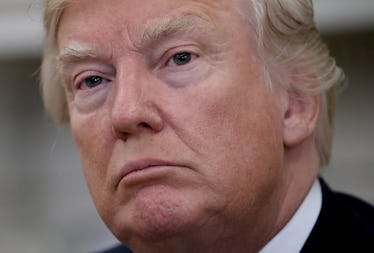 This Is Who Gets To Vote On Impeaching A President, In Case You Were Wondering
Win McNamee/Getty Images News/Getty Images
Impeachment proceedings against Donald Trump seem like a vivid possibility now that his ex-lawyer, Michael Cohen, appeared to implicate him in potential criminal activity when Cohen pleaded guilty to eight criminal charges in a Manhattan federal court earlier this week. With speculation looming around the possibility, you might be wondering if the public can vote to impeach a president. If so, here's what you need to know about the process.
To be frank: no, the public cannot vote to impeach a president. Instead, the decision is left up to the discretion of Congress, per Newsweek. The House of Representatives first votes on one or more articles of impeachment (each article includes a charge against the president). If at least one of the articles garners a majority vote of 218 members, the president is impeached, but is not yet removed from office. The case has to go to the Senate for a conviction, where the chief justice of the Supreme Court will preside over the trial. There, a team from the House acts as the prosecution and the president has defense lawyers. The president is only forced out of office if at least two-thirds, or 67 members, of the Senate find him or her guilty of committing "treason, bribery, or other high crimes and misdemeanors," as written in the Constitution. At that point, the vice president — in this case, Vice President Mike Pence — would step up and take over the presidency.
However, people can voice their opinions to their congressional representatives on the matter and request that they begin impeachment proceedings. So there's that, at least.
The questions about Trump's impeachment have increased recently, after two of his associates, former lawyer Michael Cohen and former campaign manager Paul Manafort both had bad days in court on Aug. 21.
Cohen pleaded guilty in a federal court on Tuesday, Aug. 21 to eight counts of financial fraud, including five counts of of tax evasion, one count of false statements to financial institutions, one count of cause of unlawful corporate contribution, and one count of excessive campaign contribution, per The New York Times. Manafort, meanwhile, was convicted on eight felony counts, including five counts of tax fraud, two counts of bank fraud, and one count of hiding foreign bank accounts. The biggest blow came when Cohen claimed that Trump "directed" payments to two women — adult actress Stormy Daniels and former Playboy model Karen McDougal — during the 2016 presidential campaign in an effort to keep their claims of alleged extramarital affairs with Trump out of the press. Elite Daily reached out to the White House for comment on Cohen's claims at the time, but did not hear back. Trump has denied the affairs.
However, Trump himself doesn't appear to be too bothered at the possibility of an impeachment. He told Fox News on Thursday, Aug. 23 that he didn't see how he could be impeached after doing "a great job" as president. Further, he warned:
I will tell you what, if I ever got impeached, I think the market would crash. I think everybody would be very poor because, without this thinking, you would see – you would see numbers that you wouldn't believe, in reverse.
For now, Trump's fate is still in limbo. And while the public won't be able to vote to impeach him if the matter comes down to that, there's at least a possibility that it can happen if or when the case hits Congress. We'll see.