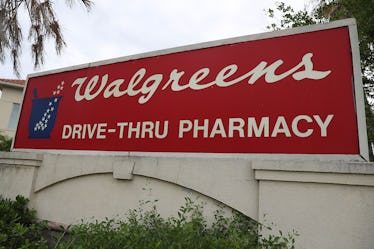 Walgreens Denied Giving A Woman Abortion Pills & The Implications Are Serious
Joe Raedle/Getty Images News/Getty Images
Over the weekend, one woman shared an emotional post on social media detailing how a Walgreens pharmacist refused to fill her prescription for an abortion pill. The post, which went viral, prompted the question, can pharmacists deny giving a patient abortion pills? In fact, there aren't many protections for patients against it.
In a statement tweeted from the pharmacy's official handle Sunday, Walgreens wrote, "Our policy allows pharmacists to step away from filling a prescription for which they have a moral objection. At the same time, they are also required to refer the prescription to another pharmacist or manager on duty to meet the patient's needs in a timely manner."
The company was responding to an Instagram post on Friday, June 22, in which customer Nicole Arteaga described the incident from a Walgreens in Peoria, Arizona. Arteaga told BuzzFeed that she was nine weeks pregnant and her doctor had prescribed misoprostol, a drug used to induce an abortion, to her after confirming that the fetus had no heartbeat and was not viable.
Referring to the pharmacist who denied her, Arteaga wrote in her post,
What he failed to understand is this isn't the situation I had hoped for, this isn't something I wanted. This is something I have zero control over. He has no idea what its like to want nothing more than to carry a child to full term and be unable to do so. If you have gone thru a miscarriage you know the pain and emotional roller it can be. I left Walgreens in tears, ashamed and feeling humiliated by a man who knows nothing of my struggles but feels it is his right to deny medication prescribed to me by my doctor.
In a statement obtained by Elite Daily regarding the incident, NARAL Pro-Choice America Vice President Adrienne Kimmell said, "Healthcare should be guided by medicine, not religion or personal ethics." She added, "A woman's reproductive health decisions are between her and her physician. If healthcare providers and workers can refuse care to people they might disagree with, what we have is essentially a system of legalized discrimination, which runs counter to the very notion of healthcare."
But as Haley Potiker wrote for Cosmopolitan, the American Civil Liberties Union (ACLU) has clarified that private entities like Walgreens are under no legal obligation to provide contraception to women.
Legal or not, the pharmacy's statement has still been met with opposition and backlash. "How long would it take me to become a Walgreens pharmacist?" tweeted Shannon Watts. "I want to see the looks on men's faces when I ask them loudly in front of other customers if they're impotent and then refuse to prescribe erectile dysfunction drugs because I'm morally opposed."
The Walgreens incident is one of several instances recently that have brought the question of who is allowed to deny services to whom, and on what grounds, to the fore. On June 4, the U.S. Supreme Court issued its decision on the Masterpiece Cakeshop case, where a baker denied serving a gay couple for their wedding cake, siding with the baker. And on Monday, June 25, SCOTUS rejected hearing a similar case of a florist who refused services for a same-sex wedding.
Meanwhile, on Friday, June 22, White House Press Secretary Sarah Huckabee Sanders was apparently kicked out of a restaurant because the owner was morally opposed to serving her and her family. Some pointed out the parallels.
"So all the folks outraged by Sarah Huckabee Sanders being asked to leave an eatery are equally outraged by the Walgreens pharmacist who refused to fulfill a prescription for a woman having a miscarriage, right?" tweeted Bitch editor Andi Zeisler.
The Walgreens situation has also caused some to declare that they would boycott the business; among them, former Vermont Gov. Howard Dean.
As a side note, if the "moral objection" line sounds familiar, that's because the Trump administration struck an eerily similar tone when, in October 2017, it moved to rescind the contraceptive coverage mandate under the Affordable Care Act (ACA), also known as Obamacare. That mandate provided coverage for 62 million women; the move by Trump's administration to undo it allowed employers to deny their employees contraceptive coverage on moral or religious grounds.
At the end of her post, Arteaga wrote, "I share this story because I wish no other women have to go thru something like this at time when you are vulnerable and already suffering."