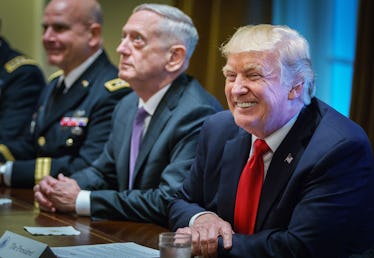 You Could Lose Birth Control Coverage Under Trump's Obamacare Rollback Depending On Your Boss
MANDEL NGAN/AFP/Getty Images
On Friday, Oct. 6, the Trump administration pulled the proverbial trigger many women feared. Under the new directive, lots of people will be affected by President Donald Trump's rollback of birth control coverage under Obamacare. The rollback, first rumored in May, would severely limit the requirements for employers to cover birth control under the Affordable Care Act (ACA, aka Obamacare). The change could affect as many as 62 million American women by reducing access to free birth control.
According to data cited in a New York Times report from Thursday, 55 million women currently have no co-payments for birth control thanks to Obamacare's contraception mandate; many get their services free of charge. Women saved about $1.4 billion on birth control pill costs thanks to the mandate.
The Department of Health and Human Services (HHS) statement says that the new regulations will not affect government programs that provide free or subsidized services and contraceptive care. According the statement, the exemptions may only be pursued by the "200 entities" who sought them in lawsuits. However, the language suggests that any employer, provided they have a moral or religious reason not to, may seek an exemption from providing that coverage to their employees.
The rollback includes a set of regulations, two of which could pose this impact on women. The first allows for any employer to refuse to cover birth control based on religious beliefs, while the second allows for this on "moral convictions."
Officials have a very different take on how many women would be affected. The Washington Post reports that according the Federal Register, the rule would affect an estimated 120,000 women. HHS officials told the Post this represents only a fraction of a percentage, based on the number of groups that have filed lawsuits around the issue.
Per the Post, Friday's rule is a temporary one, but takes effect immediately.
Seen as a massive win by some conservative and religious rights groups, the regulation undoes Obamacare's controversial contraceptive coverage mandate, which reserved the right to refuse coverage specifically for religiously affiliated employers. Trump first announced he would pursue this route via his Executive Order on Promoting Free Speech and Religious Liberty issued back in May. Friday's rollback is considered a follow-through on his campaign promise to advocate for these rights.
But if Trump's action appeases religious rights advocates, it might not sit well with millions of others. According to a Gallup poll, 89 percent of Americans think contraception is morally acceptable. Used for many medical conditions aside from pregnancy and STI prevention, contraception has also aided in reducing the abortion rate, per the Guttmacher Institute.
In response to the news, Planned Parenthood president Cecile Richard said in a statement,
This is an unacceptable attack on basic health care that the vast majority of women rely on. With this rule in place, any employer could decide that their employees no longer have health insurance coverage for birth control.
We're talking about a fundamental right -- to be able to decide whether and when you want to have children.
In a tweet, the organization also pointed out that not being able to afford birth control is shockingly common among women.
Dr. Haywood L. Brown, president of the American Congress of Obstretricians and Gynecologists, also criticized the HHS' move as a step back for women's healthcare. He said in a statement,
Reducing access to contraceptive coverage threatens to reverse the tremendous progress our nation has made in recent years in lowering the unintended pregnancy rate. ... Contraception is a medical necessity for women during approximately 30 years of their lives.
A 2012 report from the Centers for Disease Control found that 62 percent of women use some method of birth control.
Reacting to the news, social media users expressed their feelings about the rollback on Friday. One user referenced The Handmaid's Tale, the Margaret Atwood dystopian novel that came to surprising and terrifying relevance this year amidst the numerous threats to women's healthcare.
Many pointed to reductions in pregnancy and STI spread as other boons of increased contraceptive use.
It's unclear just how many employers, now given the leeway, will take advantage of the rule that allows them to strip free coverage from their employees.