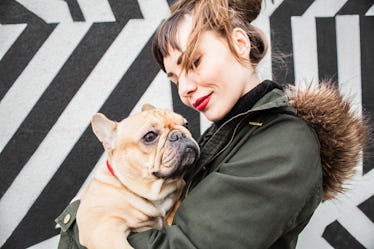 This New Survey Revealed The Incredible Ways In Which Pets Can Actually Save Your Life
Audrey Shtecinjo, Stocksy
As if you don't already have a billion reasons to be obsessed with your pet, did you know that your cat or dog might just have it in them to save your life? Yes, I'm serious. A new survey recently revealed how pets can save the lives of their owners, and I'm not crying, you're crying. Animals really are just too damn pure for this world, I CAN BARELY TAKE IT.
The new research, which was carried out through OnePoll.com and commissioned by npower (a supplier of home electricity and gas) to raise awareness about carbon monoxide poisoning, surveyed 2,000 pet owners, and according to the results, which have been shared directly with Elite Daily via email, as many as a third of pet owners have been alerted to a dangerous situation in their home by none other than their very own pets. More specifically, the survey found that people's fur babies often call their attention to things like fires and carbon monoxide leaks before they themselves even realize such a threat exists.
"You can't see, smell or taste a carbon monoxide leak so it's important to be aware of this potentially fatal danger in the home," Matthew Cole, spokesman for npower, said in a press release that was shared with Elite Daily over email.
But even though you may not be able to notice something like a carbon monoxide leak in your house right away, your pet might pick up on it a bit more quickly, according to the survey.
And BTW, it's not just carbon monoxide leaks that pets can sometimes pick up on. One pet parent polled in the survey said that, one night, their dog had started barking repeatedly, and while the family had no idea why the dog was doing this at first, they eventually realized their pet was trying to call attention to the 1-year-old baby in the home, who had apparently started convulsing and required emergency help. Another pet parent in the survey, as per the press release, said their dog once woke them up in the middle of the night when they were having "a potentially lethal hypoglycaemic attack," aka a serious case of low blood sugar.
So yeah, I'll be over here quietly sobbing if you need me, it's fine.
But seriously, this survey only scratches the surface when it comes to showing how pets (especially dogs) can protect people from danger, and potentially even save someone's life. Back in 2017, The Petoskey News-Review, a daily newspaper in Michigan, reported the story of a man in his 60s who'd fallen and broken his neck outside on a cold winter day. For 20 hours, the newspaper explained, the man "remained paralyzed in the snow in temperatures that dipped as low as 24 degrees," but his dog, Kelsey, stayed by his side, barked over and over for help, and "kept him warm by laying on top of him [and] licking his face and hands to help keep him awake." And eventually, The Petoskey News-Review reported, Kelsey's barking alerted a neighbor who was able to help the man to safety.
Are you crying yet? If not, this will definitely have you sobbing in no time: In April 2018, per BBC News, when a robber broke into the home of 86-year-old Joyce Ackerley, her German shepherd, Axel, "pounced on the robber, bit him and then chased him as he fled down the street." Now that's a hero, if you ask me.
And if you're still not convinced that dogs can be heroes, then get this: In March 2017, WLUC-TV in Michigan told the heartbreaking story of a 3-year-old girl who'd been abandoned in a ditch and was eventually discovered and returned to safety by a rescue dog named Peanut. Despite the fact that Peanut had no relationship to the little girl or her family, the dog apparently sensed trouble nearby and began "barking and yelping and demanding to be let outside," WLUC-TV explained. Not long after that, the news outlet said, the pup ran to the field where the little girl was stranded and saved her life.
Bottom line: Animals are basically angels on Earth. If you have a fur baby at home, don't forget to give 'em a kiss and a hug when you see them today.