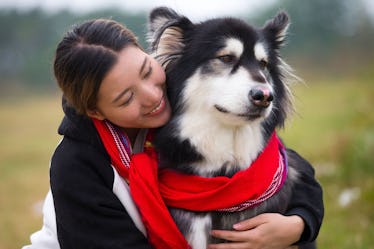 Science Says Taking Care Of A Pet Can Teach You These 4 Major Things About Life
To all the pets I've loved before: Thank you for loving me back unconditionally. I mean really, one of the things I appreciate most about pets is the way they're so quick to forgive, and so eager to show you all of the affection their little hearts can hold. If you have an animal baby in your life, you can probably relate, but you might not realize what your pet can teach you — you know, aside from how to pick up dog food without getting any of it on your skin.
Whenever I tell my dog he can't have scraps from my lunch, or accidentally step on my cat's paw, I can't help but feel so incredibly guilty. But after only a few minutes, Hank and Kit Kat are right back at my side, ready for all the snuggles I can give them. I've had various cats, dogs, hamsters, and even fish since I was 8 years old, and besides teaching me the responsibility of caring for the needs of another living being — and the fact that pets make the best hot water bottle substitutes — I've also gleaned more serious lessons from the animals I've grown up with. My cat has taught me to be in tune with the emotions and boundaries of others. My dog is a great example for striking up a balance between lounging on the couch and running outside to spend some extra energy.
At the end of the day, even though I'm technically the caretaker for my fur babies, they're the ones who have really taken care of me. Here's what they've taught me, and what your pets might teach you, over the years.