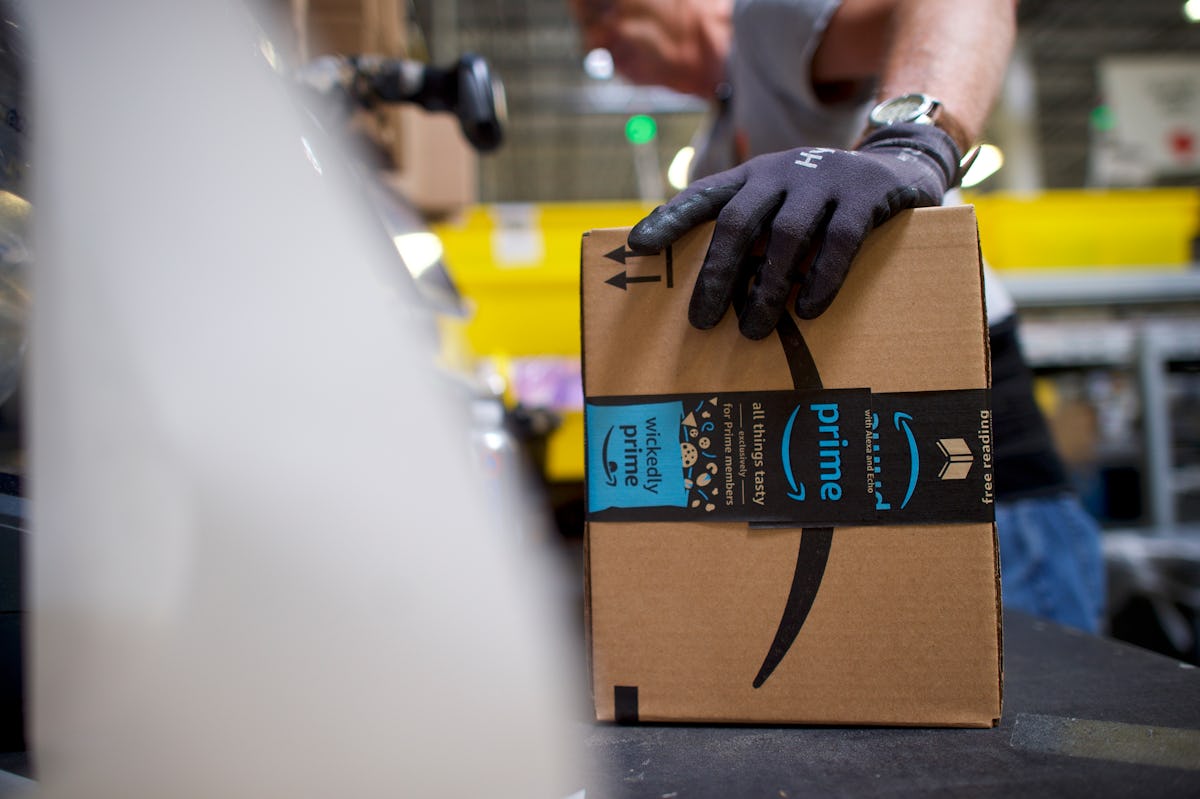 You Can Still Order Gifts From Amazon That'll Arrive Before Christmas, So Rejoice
Mark Makela/Getty Images News/Getty Images
Picture this: It's Saturday, Dec. 23. You're sitting around the house with your family, admiring all of your holiday decorations, and sipping on some hot cocoa. The holiday tunes are playing and you're about to doze off, when you suddenly snap to attention. You forgot to actually order those last few gifts on Amazon, and now you're frantically Googling, "can I still order from Amazon for Christmas?"
There's no need to fret, procrastinators and forgetters: Amazon is doing everything in its power to make sure that your gifts are delivered in time for Christmas morning, even as we're less than 48 hours from showtime. While some retailers opted for earlier cutoff dates for Christmas shipping (which is honestly fair), Amazon is catering to everyone has just one more thing to buy.
From now until 9:30 a.m. local time on Christmas Eve morning, Prime members can still order something and have it in time for their unwrapping sesh; just select "same-day delivery" at checkout. For those who aren't trying to cut it quite that close, Dec. 23 is the last day to order with one-day shipping and still receive your gifts on time.
If you're a Prime member, these options come at no extra cost. If you're not a Prime member, you can still take advantage of these deals by signing up for a 30-day free trial of Amazon Prime, according to People. I know what you're thinking; there's no way people can just decide to sign up for the trial while Amazon is offering this amazing deal — that would be silly of them. Well, consider them silly, because if you've got a trial, you've got free one-day and same-day shipping.
But wait, it gets even better: with Prime Now, customers can receive their packages even faster. With the service, Prime members can get free two-hour delivery on Dec. 24. Yes, you read that correctly: two-hour shipping. 120 minutes. You can literally order your gifts, throw on The Polar Express, and when it's over, your package will basically be there. Just make sure you place your order by 9 p.m. local time if you're thinking about taking advantage of this option; Amazon's gotta put out milk and cookies, too!
There is one small catch, though; Mashable noted earlier this month that orders must be $35 or more to qualify for these shipping offers. Amazon has noted that many of their popular gift items exceed this requirement, but double check your total before checking out, just in case.
If you clear the $35 mark, the deal is totally worth it. Prime members normally get free two-day shipping on select items, which is a pretty sweet deal. But the free one-day and same-day delivery options are only available during the holidays, at least for now. Non-Prime members can normally get same-day shipping, but it comes at a pretty steep cost: $8.99, plus $0.99 per item. Not exactly a steal.
There's one more thing to check if you still need to place some last-minute orders, and that's whether or not your city is eligible for same-day shipping. Amazon has been super generous, but of course, it's hard to offer same-day shipping to every single place in the United States, although that would be nice. To find out if your city is included in the offer, head to the Prime Now website and enter your zip code. A number of cities are on the list, including Atlanta, Brooklyn, Chicago, and Miami. Amazon has also added smaller surrounding metropolises to its list, so be sure to check it out, even if you're not in a big city.
This shipping offer is truly a Christmas miracle, so if you've still got shopping to do, go, go, go!
Check out the entire Gen Why series and other videos on Facebook and the Bustle app across Apple TV, Roku, and Amazon Fire TV.