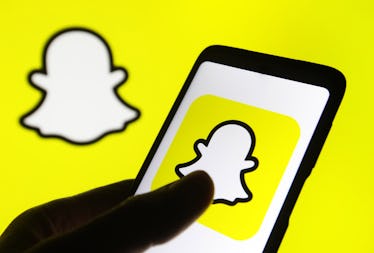 This Snapchat Feature Let's You Save Your Chats Longer Than Ever Before
NurPhoto/NurPhoto/Getty Images
Disappearing conversations definitely have their perks, but sometimes it can be hard to remember what you said. Snapchat first became popular for its ability to let users share temporary messages, but what about if you want to keep up with your conversations in the app? If you're wondering whether you can save your Chats in Snapchat, here's what you can do to keep your convos a little bit longer.
There are actually a couple ways to save your messages in Snapchat other than just taking screenshots of all your Chats. Depending on how long you want to keep your messages, you can either save messages in individual Chats indefinitely (a feature that has been around since 2015), or you can keep them for up to 24 hours.
The ability to save Snapchat messages for up to one day was released in August 2018, and you'll have to enable the 24-hour feature for each individual conversation (Group Chats are automatically set to delete messages after 24 hours). It may sound tedious, but it's pretty simple once you know what to do.
First, open Snapchat and navigate to the Chat of your choice. Tap on the avatar near the person's name in the upper left corner, and then tap the three white lines in the upper right corner. From there, you'll tap "Delete Chats" — which you'll find in the middle of the menu — and two options will appear: "After Viewing" or "24 Hours after Viewing." Snapchat defaults to deleting messages after you view them, so if you want them to last longer, select "24 hours after Viewing." This will keep your Snapchat messages around for up to one day after reading them, but after the 24-hour period is over, they'll be gone for good.
If you ever want to switch back to having your messages disappear right after reading them, you can follow the same steps, but when you're in "Delete Chats," choose "After Viewing."
The process to keep the messages in Chats around indefinitely is also pretty simple, but it's also slightly tedious because you can't save entire Snapchat messages with the tap of a button. In order to save Snapchat messages line by line in a Chat, all you need to do is tap on the message in the Chat — either sent by you or the person you're talking with — and hold it down until your screen shows three options: "Save in Chat," "Copy," or "Delete." To keep the message, choose "Save in Chat," and then that specific message will have a gray background, which means it will stay in your Chat indefinitely. Both you and the person you're chatting with will be able to see it as a saved message in your Chat.
When you no longer want to keep a message saved, all you need to do is reverse what you just did: Hold down the saved message in the Chat and then choose "Unsave in Chat" when the option comes up. The gray background will go away, which means it will disappear for you and your Chat partner when the viewing time is up. You can't prevent someone from un-saving a message on their end, but you can save messages as long as you like if you initiate the action.
When you want to delete Snapchat messages before they've expired, all you have to do is press and hold on the message or the content of the Chat (like Stickers, Audio & Voice Notes, and Memories). After holding, you should see the word "Delete" pop up. Simply tap that and all of your content will disappear. Once the message is gone, your friends will get a notification within the Chat that a message was removed. The deletion feature applies to both one-on-one Chats and Group Chats.
Snapchat has come a long way from the screenshot method of saving Chats, but you can still use the OG method if you want to. Just remember, your Chat partner will be alerted when you take a screenshot of a message or a Snap — and screenshots are forever.
This article was originally published on