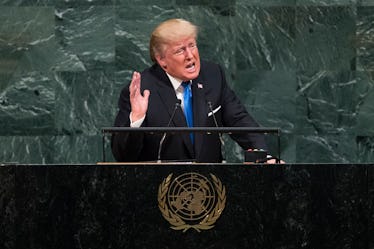 Congress Might Be As Scared About Trump & Nuclear Weapons As The Rest Of Us
Drew Angerer/Getty Images News/Getty Images
If you're afraid that the president might fire a nuclear warhead as quickly as he fires off vitriolic tweets, you are not alone. When it comes to the question, can Donald Trump fire nuclear weapons, some lawmakers are worried that his rash political style could lead to World War III. And, for the first time in four decades, they just might do something about it.
On Nov. 14, the Senate foreign relations committee held a hearing called the Authority to Order the Use of Nuclear Weapons where lawmakers voiced their concerns about the risks Trump's freewheeling style poses if he has the power to start nuclear war.
"We are concerned that the president is so unstable, is so volatile, has a decision-making process that is so quixotic, that he might order a nuclear-weapons strike that is wildly out of step with U.S. national-security interests," Sen. Chris Murphy (D-Conn.) said according to a BBC report.
At the hearing, lawmakers conferred with administration officials and former military personnel about how much power and autonomy the president has to launch a "first-strike" attack, one in which the U.S. is not under attack. Currently, the president pretty much has the authority on his own to launch a nuclear missile, according to Politico.
According to a report in The Washington Post, the president gained the oversight he has today during the tensions of the 1960s, after the United States nearly faced off with Soviet troops in the Cold War. Giving the president sole authority of the nuclear arsenal was meant to prevent rogue generals or foreign armies from gaining control. Of course, that was a bygone era when Soviet weapons could hit the country in a half an hour from the time they were launched, so the president's authority to launch an attack on his own made sense, according to Politico.
Now, with a president who picks fights with North Korean leader Kim Jong-un on Twitter, and in the absence of Cold War-like conditions, it may not.
As tensions have mounted between America and the Hermit Kingdom, Trump hasn't hesitated to spar with the country's leader. In response to an Aug. 8 report that North Korea successfully developed missile-ready nuclear weapons, Trump said that "they will be met with fire and the fury like the world has never seen." At a speech at the United Nations a month later, he doubled down. "Rocket Man is on a suicide mission for himself," he said referring to Kim.
Kim has reciprocated the rhetoric, with North Korean officials saying that Trump's comments amounted to "a declaration of war" and that North Korea would shoot down American planes. And after Trump gave a speech in South Korea during a 12-day trip in Asia, the North Korean foreign ministry released a statement calling Trump an "old lunatic."
Trump, naturally, fired back by tweeting that he'd never call Kim "short and fat."
Given how quickly Trump will tussle with the unpredictable totalitarian leader, many are worried that his social media usage will have serious consequences.
At the Nov. 14 hearing, however, retired Gen. C. Robert Kehler said that the president can't just order a nuclear strike without an attack. Kehler, who was U.S. Strategic commander from 2011 to 2013, said he would have defied orders to launch a nuclear weapon if it were illegal, especially in the case of a "first-strike."
"I would have said I have a question about this and I would have said I'm not ready to proceed," Kehler said, according to Politico.
That didn't exactly assuage senators' concerns, however.
"So we can have a little comfort that, even though president has the authority, there are limits to that in the context when there's time," Sen. Ron Johnson (R-Wis.) said in response.
So, what would happen if there were an attack?
Hypothetically speaking, if the military had to wake Trump up in the middle of the night to warn of an attack, procedure says that the president would ultimately have the sole authority to launch an attack, National Security Council official Peter Feaver explained at the hearing, according to Politico.
On the other hand, if Trump were just pissed and wanted to launch an attack he "alone could not effect the strike. He would require lots of people cooperating with him to make the strike happen," Feaver said.
As for whether or not Trump's vengeful Twitter habits could lead to a conflict, it doesn't look so good.
"I would be very worried about a miscalculation based on continued use of his Twitter account with regard to North Korea," Brian McKeon, a former Pentagon official said at the hearing, according to Politico.
While it's not clear what steps lawmakers will take in regards to the president's authority to launch an attack, the hearing was a reminder that they are taking his comments — on Twitter or otherwise — very seriously.
Every time you panic when Trump is rage-tweeting, at least you know you're not alone.