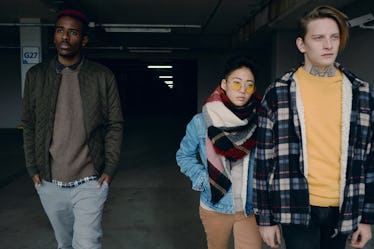 Before Dating Someone In Your Friend Group, Consider These 4 Things
Coming to the realization that one of your friends is a total babe is actually a pretty common occurrence. Sometimes it happens after three months of friendship, and other times it happens three years! It's like all of a sudden you realize that they have literally every quality you could ever want in a bae, and the best part is you're already friends! But assuming you and your friend-turned-crush are part of a larger crew, you've probably wondered — will dating a friend ruin your other friendships?
And while personal experience makes me want to rush and scream "Definitely!" the truth is that it really does depend on the other dynamics in the group and exactly how tight-knit you are. It's much more likely that dating within a smaller friend group of three or four people with whom you have years of history with is going to turn out badly when compared to a larger group of much newer friends. But love is love, and if the feelings are mutual, then pretending you aren't totally sprung for the sake of keeping the status quo seems like total torture. Before deciding whether or not to date a friend, it's really important to think things through, especially if your newly found love can potentially impact your relationships with your friends.