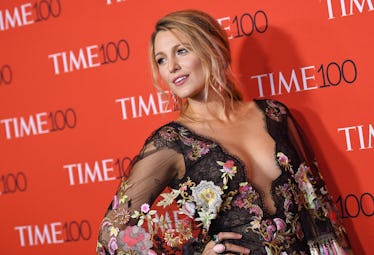 Blake Lively Sings In Her New Movie 'All I See Is You' & It's Not Her First Time
ANGELA WEISS/AFP/Getty Images
It's no secret that Blake Lively is a natural-born performer. The actress has shown off her acting skills on TV in Gossip Girl and in huge movies like The Town and The Age of Adeline. Her latest film, All I See Is You, is a thrilling noir about a blind woman who regains her sight and a new perspective on her life and marriage. Blake not only challenges herself in the riveting role, she also flexes her musical muscles. But can Blake Lively sing? Even though her character isn't a professional singer in the film, Blake's voice gets a major moment.
Blake has been very candid and honest about her singing abilities in the past. We all know the charming talent can act with the best of 'em, land on the best dressed list every week like it's no big deal, and bake a mean puff pastry. But she even admitted to Good Morning America recently when discussing the film: "I can't sing at all." That's OK, Blake. We're sure you gave it your all.
She also spoke to Collider about the process of perfecting (or not perfecting) the song she sings in the film, revealing that her emotional connection to the scene outweighed the need to actually hit the notes. She said,
I can't sing. I know I can't sing. That's my identity. I love singing more than anything in the whole world. I'm like, 'Hi, nice to meet you. I can't sing to save my life.' I sang in this movie … It's not great. But the thing is, it doesn't matter, because this character's not a singer. She's singing at a kids' recital. And actually Babyface was the person who was coaching me cause we were at his recording studio… so cool. And they had autotune on in my ear.
Blake explains that ultimately Babyface instructed her to turn that autotune off and perform the song "emotionally," pull from the scene in the movie, and tell her story. And you know what? It worked. No autotune necessary. "It's not perfect, but it was real," she remarked.
Blake is one of a handful of TV actresses who hasn't tried a real hand at a music career. Her Gossip Girl cast was chock full of singers who went on to release singles, albums, and still play today. Leighton Meester AKA Blair Waldorf had a hit in her own right when she was featured on Cobra Starship's 2008 banger "Good Girls Go Bad," and she released the folky "Heartstrings" album in 2014. Taylor Momsen, who played Jenny Humphry, found success with her band, The Pretty Reckless. Her TV bro Penn Badgley, the actor behind Dan, plays with the group MOTHXR. Even Ed Westwick was a member of the band The Filthy Youth, and some of their songs were featured on the show. Hmm. Now we're thinking we wouldn't mind seeing the cast of GG form their own supergroup...
But it's not like Blake has completely avoided singing on screen throughout her career. She crooned alongside The Muppets for a very special Christmas ditty, as one does on Saturday Night Live.
She also very convincingly channeled Marilyn Monroe for a rendition of "Diamonds Are a Girl's Best Friend" on Gossip Girl. Even if the scene was dubbed, she totally committed.
Even if she thinks she can't sing, Blake Lively continues to take on compelling roles and keep her filmography interesting. We can't wait to see what she does next. Hey, she was in a show choir after all. Spotted: What appears to be young Blake in a video of a 2005 Burbank High School choir performance. XoXo, Gossip Girl.