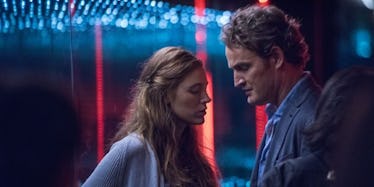 Blake Lively Looks Like A Different Person In Her New Movie Trailer & It's Scary AF
Open Road Films
Autumn is here, and with Halloween just around the corner, our cineplexes are filled with scary stories to watch in the dark, from Stephen King's It to the creepy looking and wintery The Snowman, which manages to combine the horrors of Halloween and being cold. Joining these this month is a psychological drama, ready to scary female audiences silly. The All I See Is You trailer with Blake Lively is one based on the horror of trusting someone you love, only to discover that was never a good idea.
Blake Lively, once known for such shows as Gossip Girl, and now more likely to be thought of as the wife of Ryan Reynolds and a "lifestyle" maven, does attempt on occasion to still make movies. Most of them are the "pretty lady in peril" variety, from the 2012 film Savages to last year's The Shallows, and her latest is no exception -- except this time, she's not so pretty, at least at first. Here's the synopsis for All I See Is You:
The story of a blind woman (portrayed by Blake Lively) and her husband (Jason Clarke). When her sight unexpectedly returns, she begins to discover the previously unseen and disturbing details about themselves, their marriage, and their lives.
Check out the trailer to see how much Lively has changed her look for this role.
All I See Is You had a bit of a delay from its initial premiere last September at the Toronto International Film Festival.  When Open Roads Films acquired it in October of last year, it originally scheduled the movie to come out on Aug. 4, 2017. It's now been pushed back twice, once to Sept. 15 and now to Oct. 27. With the trailer now out, it seems like distributors feel that Halloween is their best bet.
Filmmaker Marc Forster is known for films like the Oscar-winning Monster's Ball, another movie where a pretty actress gets herself un-prettied, as well as the James Bond film Quantum of Solace. But his earlier work often featured freaky and trippy visuals, like 2005's Stay and 2006's Stranger Than Fiction.
From the looks of the trailer, this is his chance to get back to some of those roots, with Lively's character discovering what it would be like to see again, after decades of being blind, and having to build a mental context for visual input from scratch as an adult. If the trailer is anything to go by, the movie will be great just for the visual feast of her learning to see.
Then, of course, there's the emotional issues that go with such an enormous life change. Lively's character goes from having a normal look of a person who isn't influenced by Hollywood, Sephora, or even a mirror to dying her hair blonde, wearing sexy dresses and generally turning into Blake Lively. Her husband (Jason Clarke) finds himself in a dilemma -- one that happens to many spouses in real life -- discovering that many years in, the person you married has, for one reason or another, changed.
This being a horror flick, it can't just really be that simple. Is he really just attempting to emotional adjust to having a wife who suddenly is far less dependent on him after years of feeling needed? Or is he... hiding something. Who is this man she blindly trusted (yes, pun intended), only to discover that's he might actually be a horrible abusive person and she needs to flee?
Still, despite the trope-iness of the plot, Rotten Tomatoes currently rates this movie at about 50/50 based on the reviews from last year at the Toronto International Film Festival. Considering some of the box office bombs we've seen go off this year, this is riding in the nice, middle-of-the-road horror flick. Something for those less into clowns and more into being reminded at Halloween that men are scared women will make fun of them, and women are scared men will kill them.