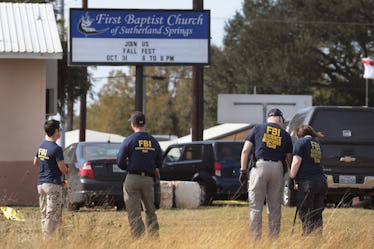 We Need To Talk About Domestic Violence, Guns, & Mass Shootings
Scott Olson/Getty Images News/Getty Images
On Sunday, Nov. 5, a gunman used an AR-15-style rifle to kill 26 people in a mass shooting at First Baptist Church in Sutherland Springs, Texas, according to Texas authorities. The gunman had a history of domestic violence, and died following three gunshot wounds (which included a self-inflicted gunshot to the head) after leaving the church on Sunday, according to authorities. In 2012, he was court-martialed and found guilty during Air Force service of assaulting his wife and child, according to The New York Times, and was discharged for "bad conduct" in 2014 after a sentencing of 12 months' confinement.
A background of domestic violence is not uncommon for a mass shooter — although it's not a prerequisite, either. Many of the more high-profile mass shootings were reportedly committed by men accused of domestic violence, including June's shooting at a Congressional baseball practice, the Pulse nightclub shooting, a 2016 shooting of 17 people in Kansas, and the 2015 Colorado Springs Planned Parenthood shooting. Overall, between 2009 and 2016, 54 percent of mass shootings involved killing intimate partners or family members, according to Everytown for Gun Safety.
"One of the most common factors behind mass shootings is domestic violence," Amy Barasch, executive director of Her Justice, a legal group for women, tells me in an interview for Elite Daily.
There is actually a federal law in place that's supposed to keep domestic violence offenders from owning guns. However, federal laws often fall short of actually keeping guns out of the hands of domestic violence offenders for a handful of reasons. "The problem is that there isn't really an effective enforcement mechanism," Barasch says.
In terms of the national laws themselves, they don't apply to violence against a girlfriend (as opposed to a wife) or against someone who is neither a partner nor a child (i.e. a parent). There is also a lack of specificity in laws regarding same-sex couples, which can lead to legal confusion. The laws also don't apply to convicted stalkers. This allows for many people to be convicted of a domestic violence-related crime, but still buy and own a gun.
What's more, the national laws don't actually require convicted domestic abusers to turn in their guns. Instead, it's left to states to decide if they're going to step up their own laws to take away guns from domestic abusers after a conviction. However, just 15 states have laws in place requiring people with domestic violence restraining orders to give up guns, according to Everytown.
And then there are the gun sale issues that go beyond domestic violence. Background checks for gun sales — that, in theory, would prevent convicted abusers from being able to purchase guns — only happen with licensed gun sellers, per the law. But they aren't the only people who sell guns. There are also sales on the internet, sales between families/friends, and sales at gun shows (which is why this issue is often referred to as the "gun show loophole"). When it comes to third-party sales without background checks, Barasch says, "the fact that people don't think folks they know are going to harm their partners does, unfortunately, affect whether they think that person should be able to own a gun."
There are a host of other technical and legal problems — ranging from a lack of clarification of what an ownership restriction means, to the idea that a convicted abuser is not likely to self-report breaking a law by owning a gun, to simple human error in documentation — that allow for convicted domestic abusers to continue to have access to guns. Ultimately, this touches on two major issues: the apparent inability to pass stricter gun control laws and the lack of understanding American society has around domestic violence.
"There are certainly people on the ground who think folks have a very invariable right to possess a firearm," Barasch says, explaining that this right is for recreational purposes, such as hunting. But, she says, people need to get to a place where they recognize that an adult's right to weekend fun is not as important as, say, a child's right to life.
Although our culture is now at a place where we can talk more about domestic violence than we could in previous American history, when it was more of a silent issue, "we don't really understand it any better than we used to," Barasch says. This means that both bystanders and law enforcement still miss red flags when it comes to domestic violence and guns. So people can still have a feeling that domestic abusers "hurt their partners in a 'small way,' but they would never use their gun to hurt them," according to Barasch. In reality, if a gun is present in a domestic violence situation, a woman is five times more likely to be killed, a 2003 study on risk factors for femicide in abusive relationships from the American Journal of Public Health found.
The Texas gunman was denied a license to carry a gun in the state, Governor Greg Abbott said. "By all the facts that we seem to know, he was not supposed to have access to a gun," Abbott said. Still, according to CNN, he was able to purchase a gun in Texas in 2016. He checked a box in the background check paperwork to claim that he did not have a criminal history that would prevent him from owning a gun. The Air Force said in a statement on Monday evening that they failed to enter his domestic violence offense into the National Criminal Information Center database, so it would not have come up in a background check search. Ultimately, this instance came down to a human or system error.
Now, 26 people are dead.