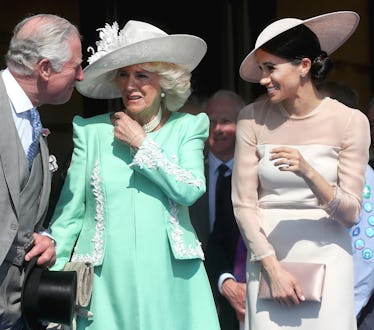 Camilla Parker Bowles Said The Royal Wedding Went Perfectly, Except For This One Thing
Chris Jackson/Getty Images Entertainment/Getty Images
Are you still drooling over images and articles about the royal wedding? Because same. I'm the slightest bit sad that the royal wedding weekend has officially come to a close, but hey, at least we have so many gorgeous memories of the day that the world can obsess over. And even though us civilians didn't get all the details about what happened on the big day, we've been getting filled in on the day's events here and there, and for that, I am truly thankful. Of course, things were a bit up in the air when it came to Meghan Markle, Duchess of Sussex's, side of the family, but luckily, it looks like everything went without a hitch, and Camilla Parker Bowles' comments on the royal wedding totally prove that sentiment.
Just days before the royal wedding, it was announced that Meghan's father, Thomas Markle, would be unable to attend and walk his daughter down the aisle due to having heart surgery on May 16.
In a statement, Markle confirmed via Kensington Palace Thursday, May 17, that her father would be absent on the wedding day:
Sadly, my father will not be attending our wedding. I have always cared for my father and hope he can be given the space he needs to focus on his health. I would like to thank everyone who has offered generous messages of support. Please know how much Harry and I look forward to sharing our special with you on Saturday.
While that was truly saddening to hear, Thomas Markle said that he was "honored and grateful" that the Prince of Wales would escort his daughter down the aisle instead on Saturday, May 19, according to TMZ.
But with all of those details up in the air, one would think that the bride, groom, and their families would be worried about what was to happen next. But according to the Duchess of Cornwall (aka Camilla Parker Bowles), there was absolutely nothing to stress about, because everything went beyond perfectly.
Bowles spoke to British news station 5 News to discuss her stand on domestic abuse, but also was able to dish on the royal wedding (because, duh). Daily Mail royal correspondent Rebecca English took to Twitter on May 23 to discuss Bowles' comments about Meghan and Harry's wedding, which were mostly good — with one small, kind of funny exception. English wrote,
The Duchess of Cornwall described Harry and Meghan's wedding as 'uplifting' on her visit to @5_News today, but said that even the royal family hadn't been sure 'what would happen next'. #royalwedding
According to English, it seems that Bowles was referencing the ~situation~ surrounding Thomas Markle's absence at the wedding. English continued, writing,
Camilla appeared to reference events surrounding Thomas Markle's non-appearance saying: It was such a lovely day. Just everything went right. 'We all wondered whatever would happen next and then everything went right.
The only thing that went remotely wrong, you ask? Well, the fact that they're all losing their voices now from having so much darn fun! "The only thing is that we are all losing our voices now," the Duchess shared.
LOL, can you imagine Camilla Parker Bowles screaming her head off while dancing at the royal wedding, in full party mode? Screaming for the DJ (OK fine, it was probably a 20-piece orchestra) to turn the music up louder?
I feel like it would look something like this:
Possible? Sure. Probable? More than likely, no.
According to English, Bowles commented on how "perfect" everything was for Meghan and Harry's day — including the weather forecast, which was not your typical dreary London day. English wrote,
It's nice to have something that is uplifting rather than depressing. Everything was just perfect, including the weather, which couldn't have been better. It was a beautiful day.
When your in-laws give your wedding day the stamp of approval, that's when you *know* you've made it into the family circle. Good job, Meghan, we all knew you had it in you!